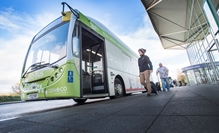 130 buses powered by methane from human waste could be in service in Bristol by 2019
First West of England and Rotala-owned Wessex Bus, along with GENeco, have submitted bids to the Office of Low-Emission Vehicles for more bio-buses
Wessex Bus is hoping to run a 20-strong fleet in Bristol, while First West of England is looking to bring 110 CNG gas-powered double-deckers to the city.
If First West of England's bid is successful, 40% of the operator's fleet would be low emission and would run on routes where there is lower air quality, while under the Wessex Bus plan, 10 bio-buses will be operating in Bristol next year and another 10 will be in service by 2019. Since spring 2015 First in Bristol has been trialling a single-decker Bio-Bus which has been running on the number 2 route.
The bid would mean building a refuelling station at the sewage treatment works in Avonmouth.
Jenny MacLeod, First West of England's General Manager for Bristol, said: "If we are successful we will be leading the way in creating a fully sustainable public transport network that can really make a difference to people in and around Bristol.
"All 110 double-decker bio-buses will operate in Bristol, representing almost half the fleet. It will revolutionise the entire public transport network in Bristol."
Antony Goozee, Commercial Director of Wessex Bus, said: "This is a great opportunity to increase the number of gas-powered buses on the streets of Bristol and surrounding area, which will significantly improve air quality.
"We believe this would be the most sustainably fuelled fleet in the UK, as it will be the only fleet where the buses are powered by the treatment of sewage and inedible food waste from the local community."
Mohammed Saddiq, Managing Director of GENeco, said: "Our plans are for the buses to run in areas of Bristol and Bath that have the poorest air quality. It would significantly cut emissions harmful to human health and because the buses will run on gas from renewable sources, it means each gas bus would have an 80% less carbon footprint than a typical diesel bus."