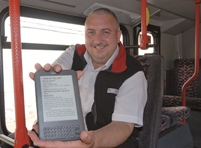 A bus driver has completed his first book after three and half years of research and writing. Julian Noyce, 43, who lives in Salisbury and has been an employee of Go-Ahead Group-owned Wilts & Dorset since 1992, said: 'Tomb Of The Lost' is a fictional story which covers the days of the Roman empire, Hitler's obsession with Alexander the Great, and a current day marine archaeologist.
The inspiration for the book stems from his long time fascination of ancient history and his grandfather who served in North Africa with the Royal Engineers in World War Two.
Now published on Amazon for Kindle users, Julian says he is excited with the early sales and response from readers of the 165,000 word novel.
"It's very gratifying to receive good reviews from people across the world who I have never met as you always worry that family and friends may be being nice in their critique!" said Julian.
"I understand that there has never been a harder time to try to get a book published in print so the internet allows authors to build an audience for future novels. It's odd to think a kindle user on my bus could be reading my novel!"
He believes the intriguingly spun story has all the ingredients for a feature film with lead roles suiting a cast that could include Bill Nighy as Julius Caesar, Emily Browning as Cleopatra, Tom Hardy as an SS Major, and Emily Blunt and Michael Fassbender as other characters.
'Tomb Of The Lost' is available for download from www.amazon.co.uk  priced at £2.10 including VAT.