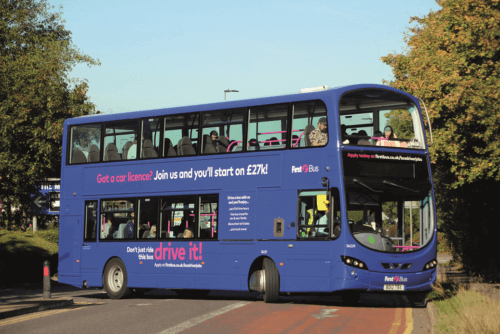 Against a background of increasing local discontent at service provision, First Bristol has announced a series of temporary journey cancellations from 16 November to help it address the current driver shortage situation. The operator posted on its website: "Due to ongoing driver shortages, which are making it difficult to operate all journeys in our current timetables, we have removed some journeys across several services. The cancelled journeys will show as cancelled on the First Bus app, and on the real time information screens at bus stops.
"We are doing our utmost to address the driver shortage but doing so will inevitably take some time. As a result, we expect these cancellations to remain in place until at least the next major change to timetables on Sunday 2nd April, which is a date agreed between all operators and the West of England Combined Authority. We regret having to do this as we appreciate it will cause some disruption, but by giving customers advance notice of cancellations rather than having to learn of them on the day, we want to make it easier for travel plans to be adjusted. Cancelling these journeys in advance also enables our operations teams to focus on delivering a more reliable service for our customers, rather than dealing with cancelling journeys on the day."
The journey cancellations came just days before the introduction of the Bristol clean air zone on 28 November, which will see the most polluting cars charged £9 per day to enter the area. BBC West reports that nearly 1, 500 bus journeys will be affected by the cancellations.