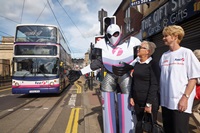 First Bus and road safety charity Brake have teamed up to highlight the dangers of crossing roads to pedestrians.
Launched in Sheffield, Manchester and Leeds, the campaign has been created to improve pedestrian behaviour when crossing roads and stop unsafe behaviour leading to injury.
Concerns around pedestrian behaviour have been raised by an independent study and follow-up observation research by First staff at crossing points at Hillsborough in Sheffield, at Piccadilly Gardens in Manchester and Vicar Lane in Leeds. The independent study by the Institute of Transport Studies commissioned by First confirmed that pedestrians take risks with their own safety around buses.
The study also found that many pedestrians are distracted by factors such as their mobile phones and simply don't look when crossing the road. The research showed that over a third of those observed did not look out for oncoming vehicles.
The pedestrian safety campaign focused on the key crossing points in the three city areas. Representatives of First and Brake encouraged safe pedestrian behavior at these busy locations by crossing at the right time 'on the green man' and avoid using distractions whilst crossing such as using mobile phones.
Denise Harrison, Safety Manager at First said: "Safety is a way of life at First. As well as developing our own staff training and vehicle safety initiatives, we want to keep everyone safe including pedestrians around our buses. Although the actual level of incidents is low, our research shows that unsafe pedestrian behavior is too common and we want to ensure these don't lead to a more serious incident."