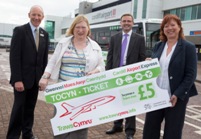 …And Cardiff Bus diverts current X91 away from airport to run direct to St Athan & Llantwit Major
First Cymru is operating a new express bus service contract – the Cardiff Airport Express – which was launched on August 1.
The new T9 service, funded by the Welsh Government and developed together with the Vale of Glamorgan and Cardiff Councils, uses five Optare Tempos (four in active use and one spare) which the Welsh Assembly Government has provided. The service runs on a 20-minute frequency, seven days a week, from early morning to late at night. It stops at Cardiff Bus Station and Cardiff Bay. First's Cardiff depot is employing 18 new drivers as a result of winning the contract.
Internally, the vehicles feature leather seating, climate control, WiFi, extra luggage space and improved on-board information.
Work is also underway to develop ticketing arrangements which will enable passengers to purchase online and combine with other train or bus tickets.
The new service costs £5 for an adult single or £8 return, with reductions for children and no charge for concessionary bus pass holders who reside in Wales.
Justin Davies, MD of First Cymru, said: "We are pleased to have won one of the most high profile contracts in Wales at the moment. It's an honour for us to be involved in the delivery of these services.
"Turnaround time between the announcement of the contract win and the beginning of the service was short but we are confident all the elements will work. We're looking forward to working closely with the Welsh Assembly Government and Cardiff Airport to deliver the high standards that both we, and they, expect." In response to the new express service, Cardiff Bus announced it is making changes to the X91. From September 9, the Monday to Saturday timetable will be revised to run directly between Cardiff, St Athan and Llantwit Major, instead of serving the airport and Rhoose. The move follows the withdrawal of the X91 Sunday service as of July 28. Peter Heath, Operations and Commercial Director, explained: "The introduction of the new T9 express service between Cardiff and the airport means there is no longer a need for the X91 serve to the airport so we have taken the opportunity to speed up the service for our passngers from St Athan and Llantwit Major."