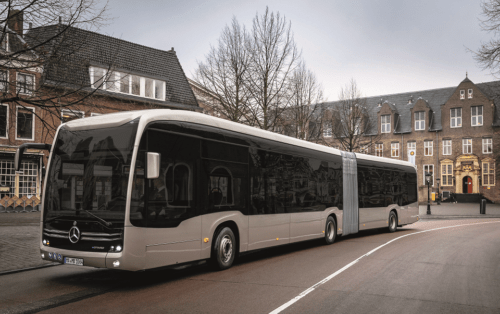 NETHERLANDS
Daimler Buses is to deliver 35 Mercedes-Benz eCitaro articulated buses to Netherlands operators QBuzz and OV-bureau Groningen Drenthe. The 18.13-metre, low-floor electric buses will be used on both urban Qlink and regional routes in the Dutch provinces of Groningen and Drenthe.
CEO of Daimler Buses Joost van der Bijl said he was proud of the first major order for the eCitaro in the Netherlands: "Our electric buses meet the highest quality standards. Both of our customers will experience how true this commitment really is. This fills us with pride, and I'm convinced that more bus operators with route licenses will soon be contacting us."
Daimler Buses will deliver 25 eCitaros to OV-bureau Groningen Drenthe, and the remaining 10 to Qlink by 2026. The three-door vehicles will feature the latest-generation NMC 3 batteries with lithium nickel manganese cobalt oxide cells and an energy capacity of 490kWh, and the vehicles destined for Qlink services will also feature a roof-mounted pantograph on the bus roof for opportunity charging.
The buses will also be fitted with camera mirror systems. "Cycling is very popular in the Netherlands, so additional safety is particularly important here," said Dirk Meppelink, Key Account Manager for Public Transport at Daimler Buses in the Netherlands.