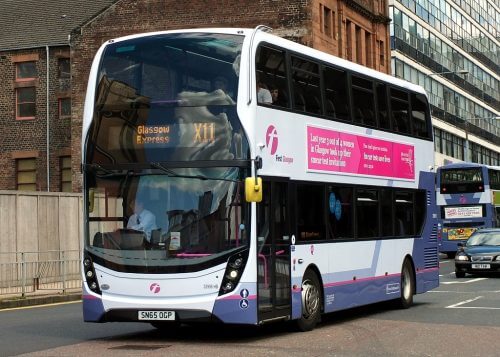 First Glasgow has said claims that a driver closed the door on a four-year-old as she left the bus, causing her to fall, are false.
The operator launched an immediate investigation into allegations from a customer that her child was injured while alighting from one of its service 8 vehicles at Riddrie on Tuesday, August 15. It was alleged that the incident happened after the child's mother had been involved in a verbal exchange with the driver about a child ticket.
It was further alleged that when the child was alighting from the bus with her mother and sister, the driver closed the doors, causing the child to fall and suffer an injury. It was claimed that the driver then moved off, without providing assistance to the family.
The allegations were made on social media and to newspapers, in addition to a formal complaint received by First's customer services team. First Glasgow responded to these allegations by saying the matter was being taken very seriously and would be investigated immediately.
A First Glasgow spokesman said: "Following detailed examination of on-board CCTV footage and an interview with the driver, we have established that there is no evidence to support the allegations relating to the injury of the child.
"We have been in touch with the customer to advise her of our findings. We are considering what further action might now be taken in light of these unfounded claims."