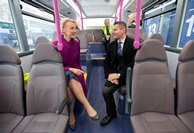 First Glasgow has introduced 75 new buses into its fleet.
Derek Mackay, Scottish Minister for Transport and Islands, gave a selection of double-decker buses his official seal of approval at First's Caledonia depot as they arrived fresh from the production line, one year on from its official opening as the biggest bus depot in the UK.
The new vehicles are the result of a £14m investment in the First Glasgow fleet in 2015 and all come fitted with leather seats, CCTV and WiFi. They feature dedicated space for wheelchair users as well as extra space for pushchairs.
In addition, the vehicles are all Department for Transport 'low carbon certified' and carry Euro 6 engines.
All of the vehicles were manufactured by Alexander Dennis (ADL). Of the £14m invested, £7.4 million has been committed to 47 green vehicles, supported by the Scottish Government's Green Bus Fund.
Derek Mackay, Minister for Transport and Islands, said: "The Scottish Green Bus Fund has already helped secure 269 new buses, helping to reduce greenhouse gas emissions and improve air quality by accelerating the replacement of older, more polluting vehicles.
"This fantastic new fleet of low carbon buses we see here today is an outstanding example of what can be achieved from government and industry working in partnership to deliver real benefits for passengers."
Fiona Kerr, Managing Director of First Glasgow, said: "These new vehicles will be among the best and most eco-friendly in the country and I'm delighted to have the Transport Minster see first-hand the improvements we are putting in place for our passengers.
"Our continuing drive to upgrade our fleet and provide improvements on board, from wider aisles for wheelchairs and buggies to free WiFi to keep people connected on the move, underlines our continuing determination to provide the best possible services in our area and ultimately encourage more people to travel by bus.
"By making bus travel more attractive, we are positively impacting on congestion as well as supporting the efforts of our local authority partners to improve air quality for all with our modern reduced emission technology."