The operator has now invested over £30m in a total of 150 new vehicles for Glasgow since October 2018
First Glasgow has launched 10 new Enviro400 City double-deckers, built by Alexander Dennis Limited (ADL) for its 500 service which entered operation 14 April.
The 500 service, which runs from Glasgow City Centre to the Airport every 15 minutes, carries over 1.9 million passengers a year.
The new vehicles come equipped with 4G WiFi, USB charging points, and wireless charging facilities on both the tables and seatbacks. In addition to these features, the vehicles are also fitted with SmartVision mirrorless systems.
Mark Johnston, Managing Director at Glasgow Airport, said: "We are proud to welcome this latest First Bus fleet into operation and I'm really impressed with the new ADL Enviro400 City model.
"As well as vastly improving capacity, the double-deckers offer a number of fantastic customer experience enhancements. I'm sure our passengers who choose to sit in the upper deck level will also appreciate the elevated views these new models bring.
"The First 500 service provides vital connectivity between the airport and the city centre to millions of passengers each year and First Bus is to be congratulated for the significant investment made to introduce this new fleet."
Marie Connell, Business Development Manager at ADL, stated: "I supported the launch of the initial Enviro200 fleet on the Glasgow Airport Express route in 2015 and am delighted that we are taking our collaboration with First Glasgow on this popular route to a whole new level with these 10 new Enviro400s.
"First Glasgow gave us challenging brief – low emission double-decks, which meet the weight restrictions demanded of LEB compliant vehicles without compromising on passenger comfort.
The premium interior specification of these low emission Enviro400s ensures that all passengers will enjoy a first-class passenger experience travelling to and from the airport.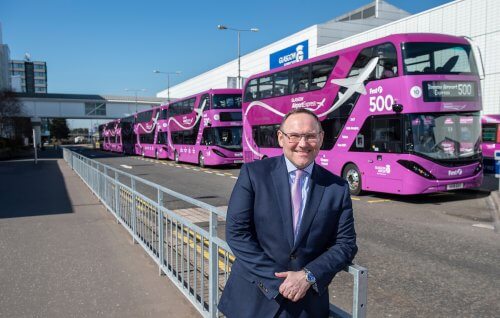 "The operator has now invested over £30m in a total of 150 new ultra-low emission vehicles for Glasgow since October 2018.
Andrew Jarvis, Managing Director for First Glasgow, said: "It is exciting times for everyone at First Glasgow in being able to share these vehicles with the people of Glasgow and the rest of the world via our friends at Glasgow Airport.
We have a great working relationship with the airport team and with these new state-of-the-art vehicles; we are providing their customers with a first-class experience on their journeys to and from the airport.
"This investment marks the end of our second phase of new bus launches linked with the Glasgow Low Emissions Zone (LEZ) and takes us a long way toward compliance for phase 2.
We are delighted to have delivered such a vast range of service improvements to our customers since October last year and these latest buses are the next level for our premium express airport service."
You can read more Bus News here: cbwmagazine.com/category/news/buses