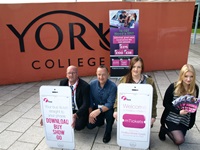 York College has welcomed a new ticket range for young people introduced by First York which is now available to all 16 – 18 year olds across the city.
From the start of September 2015, First York has frozen the price of the £3 day and £10 week tickets and introduced new monthly (£38), three-monthly (£100) and annual (£275) tickets.
First York has made the tickets available to all 16 to 18 year olds (not just those in education) with a 16 – 18 YOzone Card or a York College ID Card.
The week, monthly, three-monthly and annual tickets are also all available via the operator's mobile ticketing initiative (mTicket). The mTicket is available via the First mobile ticket app. The free app is available from the App Store and Google Play.
Will Pearson, Business Manager for First York added: "We're really encouraged with the response to these new tickets for young people.
"First is growing customers across York and we want to help support all young people and encourage even greater use of public transport."
Glenn Miller, Head of Student Services at York College said: "The 16 to 18 ticket range from First York is great value for our students. Accessible and good value public transport is important to the college and having the tickets available via the app will be very popular with our students."