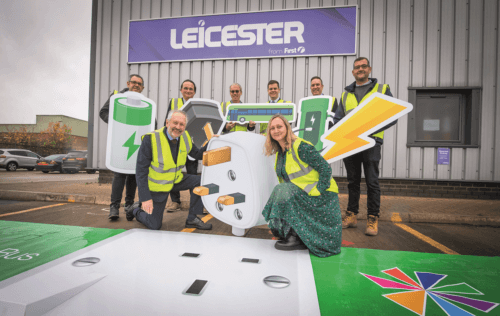 First is to introduce 68 new Wrightbus GB Kite Electroliner single-deckers at its Leicester depot
Work has started to make First's Leicester depot ready to receive a new fleet of Wrightbus electric single-deckers in 2023. An investment of £29.1m has been secured so far towards the project, made up from the first round of Zero Emission Bus Regional Area (ZEBRA) government funding alongside capital investment from the operator. The Leicester Bus Partnership's objective is to have half the overall bus network in the city operated by electric buses by 2025 and to make it fully electric by 2030 and First Leicester's commitment and the investment by First over the next six months will mark another significant step forward to achieving the aim. It is expected that each electric bus will save 60 tonnes of tailpipe emissions per year.
In support of the construction work starting, Mayor Sir Peter Soulsby, Deputy Mayor Adam Clarke and Andy Gibbons, who has been pivotal in helping secure Government funding on behalf of Leicester City Council for the project, and Isabel McAllister, First Bus' Chief Sustainability & Compliance Officer, were all present at a launch held at First Leicester along with senior dignitaries representing the local business.
Operations Director at First Leicester Rob Hughes said; "This is an exciting project that is planned to not only improve the journey experience for our customers with the arrival of 68 brand new electric single deck buses, but it is a major transformation of our depot and its functions. We are working closely with the construction team on site to minimise any disruption to our day to day requirements to operate efficiently, and are keeping all our staff up to date on the weekly progression of the project.
"There are exciting times ahead for public transport in Leicester and I am pleased that we are leading the way and are part of the extremely important Leicester Bus EP Partnership led by the City Mayor and Leicester City Council officers."
Deputy City Mayor for Environment & Transportation Adam Clarke said: "This is an exciting stage in the successful Leicester Buses Partnership. A whole depot will be powered up for ultra-modern electric buses on many more routes next year. Not only are we reducing air pollution, but we're also making bus travel far more attractive for everyone across Leicester."