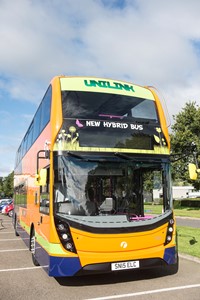 The five vehicles, representing a £1,132,645 investment, feature GKN's Gyrodrive system and were acquired with assistance from the Scottish Green Bus Fund
First Midland Bluebird has launched a new bus fleet for its University of Stirling services.
The vehicles operate with flywheel hybrid technology to deliver a significant reduction in emissions. The five double-deckers will run on the 'UniLink' route serving the University and Stirling city centre.
A total of £1,132,645 has been invested in the vehicles, inclusive of £196,000 support from the Scottish Government's Green Bus Fund.
All five buses have been fitted with free WiFi as standard as well as USB ports to allow passengers to charge mobile devices. They also feature leather seats and extra room for buggies and wheelchairs.
Built by Alexander Dennis, the Enviro400MMC buses also feature GKN's Gyrodrive energy recovery system, similar to the KERS technology used in Formula One racing cars. This technology harvests energy normally wasted when braking and stores it in a flywheel, which runs at up to 36,000rpm. When the driver accelerates the system works in reverse, feeding the energy into a traction motor.
The buses also feature Euro 6 engines.
The Stirling UniLink provides customers with services every seven-eight minutes, Monday to Friday from 0800 to 1800hrs.
Paul McGowan, Managing Director of First Midland Bluebird, said: "I'm delighted to see our new vehicles in service on campus. They are without a doubt the best in our fleet and fully support our drive to improve services and attract more people onto our buses.
"The advanced hybrid technology also helps us to deliver significant fuel savings and reduced emissions meaning our customers will enjoy the benefits of smoother, cleaner journeys.
"The Scottish Green Bus Fund is helping us invest in low carbon, more fuel efficient vehicles and has been a welcome boost for the bus industry in Scotland. This is a real boost in making our bus fleet more eco-friendly."
Derek Mackay, Minister for Transport and Islands, said: "The UniLink bus project is just one example of the ways in which the Scottish Green Bus Fund is delivering real benefits for passengers while encouraging partnerships between Government, local authorities and the bus industry. This is a clear indication of our support and commitment to encouraging cleaner ways to travel in Scotland."
Professor Gerry McCormac, Principal and Vice-Chancellor of the University of Stirling, said: "We welcome this investment from First Bus and from the Scottish Government in what is a vital service connecting our campus with the City of Stirling. Both the University and its Students' Union work hard to ensure our campus is a green and welcoming environment for our students and staff and this new fleet of buses further complement our commitment to environmental sustainability."