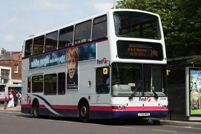 £27m project to fit 5000-strong provincial bus fleet
FirstGroup is to pioneer contactless payment on its 5,000-strong bus fleet inEngland, outside London through a £27m investment.
The group intends to be the first bus operator outside London to offer customers 'touch in touch out' contactless payment.
The new ticket machines, designed to read contactless debit or credit cards, in addition to ITSO smartcards such as concessionary bus passes, will be introduced to buses from this autumn and will initially allow customers with an ITSO smartcard to touch in. Contactless bank cards will be accepted across England from late 2012.
The new system will act much like London's Oyster Card, with transactions expected to take less than a second, avoiding the need for correct change. The system will also allow First to offer a range of tickets including capping the daily fare. Unlike Oyster, customers won't need to carry an additional card or worry about pre-payment or topping up. Customers using the contactless cards will simply see the cost of the fare deducted from their bank or credit card balance.
First has also ensured that its new system has the capability to accept payment via mobile phone. Transport secretary Norman Baker, who has pushed the advancement of smart ticketing, welcomed the news. "I want to see smart ticketing rolled out across public transport in England as quickly as possible and this announcement from FirstGroup is a positive step towards achieving that."
Baker added: "I welcome First using smart technology to improve the customer experience of bus travel. This announcement means that ITSO tickets, such as the 10m concessionary bus passes in circulation, will be read smartly on First's buses. It also means that passengers will have more choice in how they pay for travel on First buses. I will be personally taking a keen interest in how this makes bus travel more attractive."
Giles Fearnley, managing director of First's UK Bus division, said: "Considerable investment in our buses continues. This is a groundbreaking announcement for the bus industry and good news for our customers.
"The public transport industry will increasingly rely on new technology such as contactless bank cards and mobile phones to both retain and attract customers. It's an exciting prospect and I'm delighted that FirstGroup is at the forefront and setting new standards in the bus industry.
"We strongly believe that simplifying bus travel and introducing a maximum capped daily fare will strongly support our passenger growth plans. In particular, we think it will encourage car users to make the modal shift to bus especially given the continuing high costs of fuel."
First's £18m contract to supply ticket machines has been won by Swindon-based Almex. Peter Aylward, general manager of Almex, said: "Once again FirstGroup has demonstrated its willingness to embrace technological advancement by selecting the new Optima BL with integrated dualreader (ITSO/EMV); the first of its kind inEurope.
"A project on this scale allows us to strengthen our UK team and further confirms our leading position in the UK market."