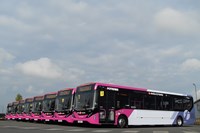 First Potteries has invested £1.3m in eight new single-decker buses.
The Euro 6 ADL Enviro200s are fitted with E-leather seating, CCTV and WiFi, providing customers with free internet access during their journey. In addition to a dedicated space for wheelchair users, extra space is also provided for pushchairs.
The new buses will run on service 21/21A from Hanley to the Trentham estate via the railway station, Staffs University, Stoke, Oakhill, Trent Vale, Hanford and Hern Heath, along with service 23/23A, which runs from Hanley to Blurton / Newstead via the railway station, Staffs University, Stoke, Fenton and Heron Cross.
Nigel Eggleton, Managing Director of First Potteries, said: "Our latest investment is great news for customers.
"I am sure our new buses will be very well received and will improve the journey experience for everyone that travels on them. The new buses will be among the best and most eco-friendly in the Potteries.
"I am pleased to be announcing this investment which shows our continued commitment to improving bus travel in and around the Potteries area".