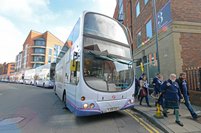 The organisers of the Rugby World Cup have thanked and praised First Bus for providing 'excellent' services during the event and making a significant contribution to the overall success of the tournament.
First Games Transport (FGT), part of First Bus, delivered a range of contracts during the Rugby World Cup, including spectator travel at Twickenham, Milton Keynes and Cardiff; media services across all host cities; and VIP services across all venues in England and Wales. In addition, regular First Bus services in cities like Leeds helped to transport thousands of rugby fans to and from the stadiums.
Mick Wright, Head of Tournament Services from England Rugby 2015, said: "Bus services provided by First Games Transport during the tournament were excellent.
"The media and VIP services operated like clockwork while feedback from fans using the convenient and reliable spectator services was extremely positive. The success of bus services in our travel management plans made a huge contribution to the overall success of the tournament.
"Many spectators relied on local bus operators, such as First Leeds, to travel to matches. Bus operators, their drivers and support staff really embraced the tournament, the fantastic atmosphere and provided a wonderful service on match days."
First Games Transport made a total of 6,300 journeys carrying more than 320,000 customers over the six week-long event. Demand for services peaked on October 25, with more than 27,500 customer using its services at Twickenham, and on October 6 First Games Transport carried over a third of the spectators leaving the match at Stadium MK in Milton Keynes.
First Games Transport's operations during the Rugby World Cup was led by its Managing Director, Andy Scholey, who also headed up First Bus contracts during London 2012, Glasgow 2014 and the 2014 Ryder Cup in Gleneagles.
Andy said: "Thanks to the commitment and talent of everyone at First Games Transport we ran a very successful operation during the Rugby World Cup.  I'm pleased that we made such a positive contribution to what was a fabulous event.
"First Bus has been involved in every major sporting event that the UK has hosted in the last few years. We've established a great reputation thanks to our experience and our ability to manage large and complex bus operations at major events."
Giles Fearnley, Managing Director of First Bus, said: "We expected our teams to deliver during the Rugby World Cup, but their performance surpassed our high expectations.
"Colleagues at First Games Transport and our local teams were fine ambassadors for First Bus and should be very proud of their contribution."