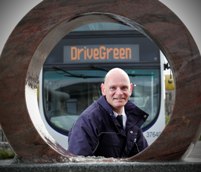 First Aberdeen driver, Malcolm Wilson, was recently recognised by senior management as one of First's best drivers.
Malcolm consistently achieved high scores in the company's 'DriveGreen' initiative, which is designed to reward and recognise the safest and greenest drivers within the business.
 All of First Aberdeen's 150 buses are fitted with GPS technology called GreenRoad, which detect dozens of driving movements per minute and immediately informs the driver how well they are driving.
First Aberdeen employs around 500 drivers and Malcolm, who has been driving for the company for five years, has won one monthly and two weekly awards in just 12 months.
Malcolm said: "I was a little bit worried about the DriveGreen initiative when it was first introduced in 2010, but once I'd received training on how it works, I could see why the company was introducing it and the benefits to passengers.
"I think it has improved my skills as a driver – I have even had customers compliment me on how smooth their journey is. When I am driving the car in my time off I continue to drive more smoothly – it's safer and saves petrol."
Duncan Cameron, operations director at First Aberdeen, said: "Our drivers in Aberdeen have embraced the groundbreaking DriveGreen technology."
He added: "Malcolm is one of a number of drivers that have particularly excelled, with exceptional DriveGreen scores. He is one of our 'DriveGreen Champions'."