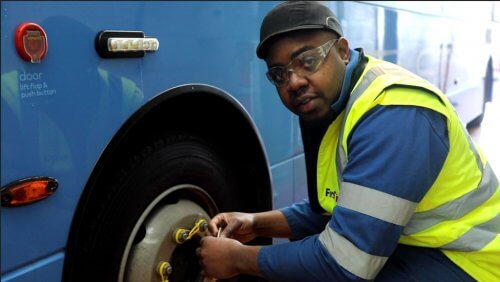 An engineering apprentice with First Solent has become the first in the industry to join a panel advising the Government on the content of training courses and apprenticeships.
David John, 31, from Gosport, has been invited by the Institute for Apprenticeships & Technical Education (IfATE) to represent engineering on its Apprentice Panel, a 26-strong group from a range of occupations to ensure that the views of apprentices are included in national reforms to technical education.
David, known as DJ by his colleagues, said: "I was really elated to find out I'm on the panel. There is a changing culture in the approach to apprenticeships and I'm pleased to be part of that." David is in the second year of his apprenticeship at First Solent and is training at the firm's depot in Hilsea, Portsmouth. He joined the company in 2016 as a bus driver after a career in the Royal Navy, where he served for seven years. In addition to his duties at First, David will now join with panel members every month to discuss current issues and meet with Government ministers and officials.
Most recently David worked on a project which saw buses belonging to the Portsmouth bus fleet upgraded to the latest Euro VI emission standard. He also helped prepare for the launch of the 24 brand-new Euro VI vehicles on the Star network, as reported in CBW last week.
He said: "I am currently training on a MechElec course, which combines mechanical engineering with electrical engineering. This ensures that, when the company starts introducing electric voltaic vehicles, I have the correct skills to maintain those. I'm future-proofed so to speak."
Talking about joining the IfATE, David added: "I'm looking forward to that part of our activity. It's going to be interesting to have the responsibility for expressing our ideas and concerns on behalf of apprentices and see how we can make a difference."
First has approximately 160 apprentices across the UK, and is looking to add a further 50 this year, and First Solent has two positions available. Gary Weaver, First Solent Engineering Director, said: "Apprentices are the only way to secure a sustainable future for our engineering teams nationally and internationally as the lack of skilled engineers in industry continues. Having a voice on this influential panel ensures that First Bus and its apprentice community are well represented through DJ as he has demonstrated the calibre, passion and aptitude to secure this very trustworthy position."