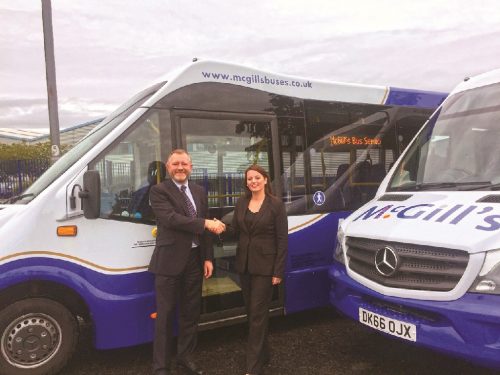 McGill's of Glasgow has taken receipt of a pair of new Strata buses from Rochdale-based Mellor Coachcraft.
The two vehicles are the first Stratas from the Mellor production line to go into commercial use in the UK.
Ralph Roberts, McGill's Managing Director, commented: "I decided to place an order for two of the Strata vehicles following a visit to Mellor at the beginning of the year – without even test driving one.
"With its standard Sprinter chassis and stainless steel Mellor body, the Strata has all the hallmarks of being the modern, DDA-compliant replacement for the very popular Mercedes-Benz Vario/709 series.
"The Mellor Strata comes with the comfort of a three years Mercedes-Benz warranty, as well as being easy and straightforward for our engineering teams to maintain. It takes fuel-efficiency, at more than 20mpg, to a whole other planet.
"The Mellor team were also great to work with and if the Strata proves to be as robust and successful as we expect, I will look forward to working with the team again."
The new 21-seat Strata vehicles are destined for use in the company's Inverclyde network.