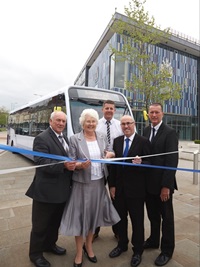 A total of 14 new vehicles are being rolled out across Doncaster after First South Yorkshire invested nearly £3m as part of the newly-formed Doncaster Bus Partnership.
The new buses are Wrightbus StreetLite Euro 6 Micro Hybrids and feature E-leather seating.
The newly-formed Doncaster Bus Partnership – a voluntary agreement between First South Yorkshire, Stagecoach, Arriva, South Yorkshire Passenger Transport Executive and Doncaster Council – has also introduced a revised bus network alongside new, lower-priced multi-operator tickets. This went live on Sunday, May 15, following public consultation last year.
This investment from First coincides with the new network launch and follows a recent investment of £7m by Stagecoach.
The investment in Doncaster forms part of an overall order by FirstGroup's UK bus division of 305 new vehicles worth £70m for delivery in the current financial year.
Daryll Broadhead, Operations Manager for First Doncaster said: "The investment will encourage more customers across Doncaster to use the bus.
"It is great news for customers. By working together in partnership we are delivering an improved network, cheaper multi-operator tickets and new, low emission buses.
"These latest new buses are amongst the most eco-friendly on the market and reflect our commitment to working with our partners to reduce emissions and improve air quality."
Mayor of Doncaster, Ros Jones, said: "I am delighted that the Doncaster Bus Partnership will help to deliver a cleaner, greener and more reliable bus service for our residents, as good public transport is so important for a thriving borough.
"The new buses look great – modern, clean and comfortable – and the 14 that will be added to the fleet in Doncaster will further help to modernise the service."
Paul Lynch, Stagecoach Yorkshire Managing Director, said: "Through partnership working we can provide a better bus service for Doncaster people.
"Better value and more flexible all-operator tickets, improved punctuality and increased investment by partners will come together to provide an altogether more attractive alternative to encourage more people to try the bus for some of their journeys."
SYPTE Executive Director, Stephen Edwards, said: "Working together, the Doncaster Bus Partnership has been able to create a new bus network that offers a quality, sustainable and reliable service for the town.
"This investment in newer, environmentally friendly buses is a positive step in encouraging the growth of bus passengers in Doncaster."