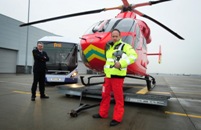 FirstGroup is providing London's Air Ambulance with £100k worth of support over four years.
Last month one of First's new hybrids, one of 23 which have just entered service in Essex, joined London's Air Ambulance at RAF Northolt to promote the partnership.
Avril Gill, FirstGroup's Marketing Manager, said: "London's Air Ambulance saves lives. Therefore the decision to apportion some of our charitable spend to it was an easy one. We are delighted to provide funding which directly supports the incredible work the team carries out on a daily basis."
London's Air Ambulance Chief Executive Graham Hodgkin said: "First is an essential part of London's network, employing Londoners and transporting people in, out and across the capital every day.
"To support a charity which is an integral part of London's emergency infrastructure demonstrates First's commitment to the community it operates in."
In a separate development, First's Charity and Sponsorship Committee is donating £1,000 to sponsor a bus driver's motorcycle challenge for the Dorset and Somerset Air Ambulance.
David Lucas, 53, will ride from the East to the West coast of America along Route 66. Over the 15-day journey, which he began on May 7, he hopes to raise £3,450 for the charity – a pound for every mile travelled. When he reaches America he will rent a Harley Davidson Ultra Classic and be joined by around 20 other riders who will share the journey with him.
David said: "When I started planning this trip it was originally intended to be just a holiday but then I started thinking about all the ways that I could use it to raise some money and I was determined to do it.
"I'm looking forward to making the donation to the charity almost as much as the actual holiday."