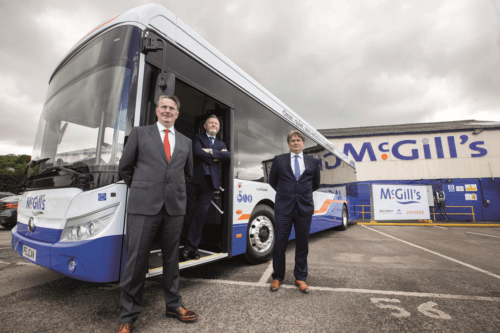 First Glasgow says its night routes, re-introduced a year ago, are not proving viable despite efforts to boost passenger numbers
First has said it is withdrawing all of its night-time services across Glasgow due to declining use and low passenger numbers, reports the BBC. The operator initially said that its 11 late-night routes, which it reintroduced last year on Friday and Saturday nights, would stop on 31 July, but later extended this until 20 August.
Commercial Director at First Bus Scotland Graeme Macfarlan told the BBC that passenger numbers showed there was not enough appetite in Glasgow for services to operate into the early hours. "Despite a wide variety of efforts by First Glasgow and partner organisations to increase the number of people using the night buses, it has not reached the level required to sustain these services beyond July," he said. "To do so, we would require the number of people using them each weekend to treble overnight, which is not realistic. We really wanted to give these services every chance to succeed which is why we have absorbed the operating losses for the last 12 months."
The Night Time Industries Association (NTIA) Scotland urged First Bus and the council to review their position: "We are already challenged with limited transport infrastructure after 23:00 across the city. The removal of the night bus service across Glasgow is short sighted and dangerous, showing no consideration for the safety of thousands of night workers and customers coming home in the early hours of the morning. In many cities across the world the local authority drives initiatives to subsidise late night transport services, and to support an industry which at present is suffering heavily under the current trading environment," a spokesperson said. "We would ask First Bus and Glasgow City Council to urgently review this position."
Meanwhile policy and campaigns manager at The Poverty Alliance Ruth Boyle said: "We are particularly concerned about people that are working in low paid jobs and sectors like hospitality, cleaning and security. For many people this could be the difference between them being able to stay in paid work and actually having to leave their job because they don't have access to a car or they can't afford the price of taxis. These services should be accountable to people who rely on them but instead we see services being cut that are a vital lifeline to people on low incomes so we don't think the decision is good enough."
McGill's considers position
Following the announcement, McGill's Buses said it would examine options for introducing night buses to the city, but added that service provision had to be financially viable. CEO Ralph Roberts said: "McGill's Group is going to examine options for providing a night bus service to Glasgow and see if we can establish a long-term plan that would be viable. We are only at an initial stage of looking at what may be achievable. The First Glasgow services that are being terminated are extensive and we cannot say at this stage that a like-for-like replacement will be feasible.
"That said, we know there is a level of demand for night-time bus services and if Glasgow is to thrive as a city, it needs companies such as McGill's together with city leaders to see what we can achieve."
McGill's co-owner Sandy Easdale commented: "We have invested in a state-of-the-art fleet for McGill's Group to serve Glasgow and James and I have also invested personally in the city. We want Glasgow to be successful and it needs to be successful. If people stop coming into the city at night to support the entertainment and leisure industry, they might just stop coming during the day as well. That would be a disaster for the local economy."
Fellow co-owner James Easdale added: "Bus provision in Glasgow is operated through a commercial marketplace and when there is movement, such as has happened this week, the opportunity can be attractive to another organisation such as McGill's Group. Trains and the Subway in Glasgow are both under public control and are simply not serving the needs of the night-time economy either. There is an opportunity for buses to fill that huge gap and that's why we're keen to see what is possible."