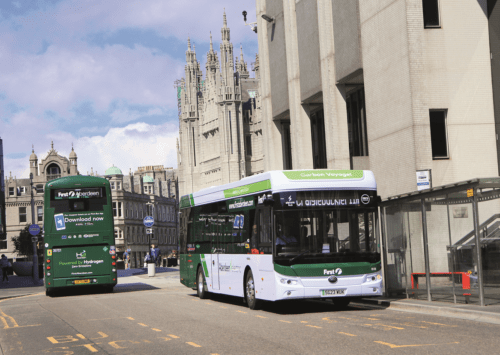 FirstGroup has been included in the latest FTSE4Good Index, ranking as the top performing bus and rail operator world-wide in the travel and tourism sector.
Launched in 2001, the FTSE4Good Index Series is designed to measure the performance of companies demonstrating strong Environmental, Social and Governance (ESG) practices, producing indices which can be used by asset managers, investors and other market participants when creating or assessing sustainable investment products.
FirstGroup, which has been included in the FTSE4Good Index for the last 20 years, ranked as the top performing company globally in the travel and tourism sector, achieving a score of 4.5 out of 5, improving on last year's score of 4.1, and compared to the sector average of 2.7.
The improvement was mainly driven by the Group's improved approach to climate risk and decarbonisation, including aligning with Task Force on Climate-related Financial Disclosures (TCFD) reporting, which helps to set out the possible impact of climate change risks and opportunities on the business in the future. The company also recently announced it has set a near term science based emissions reduction target, approved by the Science Based Targets initiative (SBTi), and aligned with the ambition of the Paris Agreement, to limit annual average temperature increase to 1.5°C above pre industrial levels.
The Group's bus business has committed to achieving a zero-emission bus fleet by 2035, and by March 2024 it expects to have more than 600 zero-emission buses in its fleet and four fully electric depots in England. The Group has committed investment of £105m in 2023/24 on bus decarbonisation, including the installation of 143 ultra-fast chargers, supported by Government co-funding of £82m.
Graham Sutherland, Chief Executive Officer of FirstGroup, said: "We are delighted to be the top performing rail and bus operator in the FTSE4Good Index this year. We have been included in the index for the past 20 years, and we are pleased to have improved our score from last year. Our services play a critical role in creating a connected, healthy, zero carbon world, contributing to local prosperity and growth, reducing congestion on the roads, improving air quality and helping to reduce carbon emissions."