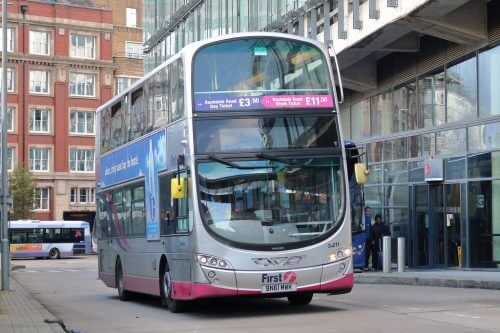 FirstGroup is in the process of selling off its Manchester bus operations, The Telegraph has reported.
Once delivering £100m in annual turnover, the report claims that the division is now worth as little as £20m, citing industry sources.
Although Manchester is FirstGroup's fourth-largest regional bus network in terms of revenue, it has failed to deliver when it comes to operating profits.
According to Passenger Transport, in 2012/13 it generated £3,5m in operating profit from a £101m turnover. However, by 2017/18 revenues had slumped to £86m, and the company made a loss of £5.8m.
These figures now make it First's worst-performing UK bus division.
As a result of its poor financial performance, it's alleged that hundreds of vehicles from the Bury, Oldham and Bolton depots will be sold to a number of rival operators.
A FirstGroup spokesperson told CBW: "We don't comment on market rumours or speculation. We keep all bus services, depots and the business portfolio under constant review so we can be responsive to changes in market conditions."
For more news click here: http://cbwmagazine.com/category/news/