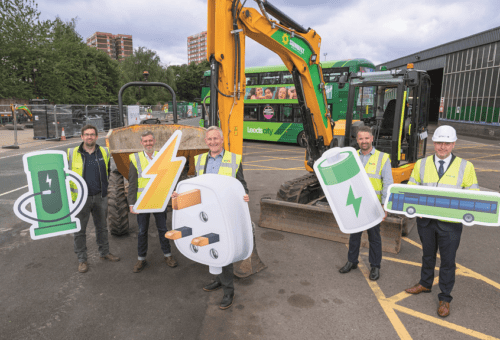 The operator has made a £23m investment in greener public transport in York, with a new double-deck fleet due for delivery by the end of the year, and work is ongoing in Leeds to electrify its Bramley depot
Work to transform the First Bus depot in Bramley, Leeds to give it the capacity to operate a fully electric fleet is underway as part of the operator's move to a zero-emission fleet. Contractors from Envevo arrived on site and started preparations to install the power charging and infrastructure to handle the arrival of zero-emission buses, with vehicle deliveries expected to start in January.
When the project is completed, 57 buses – a third of the depot's fleet – is expected to be electric by March, saving around 60 tonnes of carbon emissions per bus every year. Funding to enable the conversion has been made possible through grants of £12.6m secured by West Yorkshire Combined Authority from the Department for Transport Zebra scheme with support from First Bus and separate investment of £16.4m by the operator.
Engineering Director of First North & West Yorkshire Simon Carlisle said: "This is the beginning of a new future for the depot and our green transport revolution in Leeds. It is real evidence of our continuing successful partnership with West Yorkshire Combined Authority in bringing major improvements to bus services and supporting a shared ambition for a net-zero transport system and reducing carbon emissions in the city."
Deputy Chair of the West Yorkshire Combined Authority Transport Committee Cllr Peter Carlill visited the depot to be shown how the transformation will take place. He said: "This marks a huge step forward towards our goal of introducing more zero-emission buses to West Yorkshire, as we work to tackle the climate emergency and improve public transport.
"Having more of these buses on our roads will particularly benefit those areas affected by low air quality, as well as help us to achieve our target of becoming net-zero by 2038 and encouraging more people to use public transport. I'm delighted that we've been able to secure funding for this project, which will see further investment into zero-emission buses and support us in becoming a brighter, greener and better-connected West Yorkshire."
The depot will use Heliox Rapid 150kW chargers which are capable of fully charging a bus in 2.5 hours. Paul Middlemiss, Senior Business Development Manager at Heliox, which is also working at other First Bus depots, added: "I am immensely proud of our strategic partnership with First Bus. Together, we are reshaping the landscape of urban mobility, focused on sustainability and setting new standards for public transportation. This partnership is proof of our commitment to innovation and progress, leaving a lasting positive impact on the communities First Bus serves."
Michael Keenan, UK Operations Director at Envevo, said: "Envevo is excited to be partnering First Bus on the roll out to electrify its fleet. There has been a lot planning involved to date and we look forward to starting the transformation of the Bramley depot in preparation for the electric buses arriving early next year. The site is a major milestone on the journey to bringing zero emission vehicles to the local area."
York
First is also working together with the City of York Council, and recently 'switched on' a new fleet of zero-emission buses for the city. The buses carry a new York Electric branding, with the first ones operating from Sunday 27 August on the firm's route 4 from the city centre to Acomb, once home to its 'ftr' Wright Streetcars. The electric buses will then gradually be introduced onto selected corridors in the following weeks.
The full order of 53 Wrightbus StreetDeck Electroliner double-deckers and single-deck GB Kite Electroliners will include audio-visual next stop technology, USB charging points and WiFi connectivity. The fleet represents a total investment by First Bus of £13m supported with £10.2m funding secured by City of York Council from the Government's ZEBRA scheme.
Managing Director of First Bus in North & West Yorkshire Andrew Cullen said: "An even greener transport revolution beckons in York and we are leading this change. We're proud to unveil these latest zero-emission buses and are confident they will appeal to our customers and attract more people to consider bus travel by realising the real impact this has in reducing congestion, creating cleaner air and supporting the York economy."
"It is real evidence of our continuing successful partnership with City of York Council in bringing major improvements to bus services and supporting a shared ambition for a net-zero transport system and reducing carbon emissions in the city."
The buses can carry around 90 passengers and have a range of up to 200 miles on full charge.
Councillor Claire Douglas, Leader of City of York Council, added: "Bringing this new technology to York is an exciting, important step towards a healthier city and reaching our key goal of being net zero by 2030. As the York fleet gradually becomes fully electric, I hope it will attract more and more people to using buses as we deliver a vision for cleaner, more efficient ways of getting around our city.
"I'd like to thank everyone involved in helping York lead the way by delivering this electric fleet and combined with investments and improvements via York's Bus Service Improvement Plan, showing our commitment to providing more frequent and affordable bus networks."
As part of the overall investment, First's York depot is currently being transformed with the installation of the infrastructure to handle the full zero-emission fleet, which will total 86 buses.