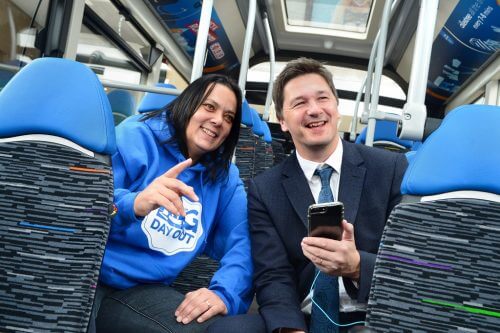 Five brand new buses driven by the country's favourite drivers have joined Trent Barton's the allestree route.
The new buses were on show at Derby Market Place on Sunday October 15 whilst heritage buses took to a nostalgic ride on routes running to Allestree and Micklover.
The five new Enviro200 buses from Alexander Dennis (ADL) are light, fuel efficient and feature an improved suspension for a smoother ride. They have 'stop-start' technology that saves fuel and further cuts emissions.
The Mayor of the City of Derby, Councillor John Whitby, was a guest of honour and said: "I am particularly impressed with the stop-start technology and to see new buses that not only meet but exceed the requirements for Derby's 2020 Clean Air Zone.
"As Mayor of the City of Derby it is great to see a local company continuing to invest in our local bus services. These buses are a great step forward and people will notice the difference."
Built in Scarborough, the buses have LED lighting, visual and audio next-stop announcements, plus USB power at every seat to help customers stay connected.
Jeff Counsell, Managing Director of Trent Barton, said: "These fantastic new buses join a fleet driven by the best in the business. They are also bigger than the ones they are replacing and we've spared no expense, with comfier seats, extra legroom and three large skylights to give customers an unrivalled experience.
"Our drivers were ranked number one in the country in the latest independent customer survey conducted by Transport Focus. In a recent survey 100% of customers scored our drivers as good or really good on the allestree.
"By continuing to invest in the very best new buses, our customers enjoy a terrific experience in the hands of our wonderful drivers."
The new buses linking Derby city centre, the University of Derby and Allestree are part of Trent Barton's £5m investment in 2017 on new vehicles and upgrades – its biggest ever investment in a single year.
This investment follows on from the 22 new buses invested in 2016 on the mickleover and the nines routes, and nine brand new coaches in 2015 for red arrow.