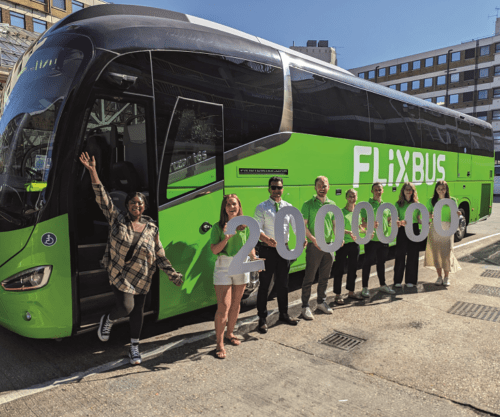 In early September, FlixBus celebrated carrying its two millionth passenger in the UK. The lucky customer received free tickets to travel on FlixBus's UK network for the next 12 months, as well as a luxury spa day and a hamper of unique Flix-branded travel essentials including eyemasks, a pillow and a reusable water bottle.
The passenger, 22-year-old Juanita Kani from London, took her journey between the capital and Birmingham earlier this summer. Juanita had been making trips between the two cities while completing her degree at Birmingham City University and has since moved back to London to pursue her dream of becoming a forensic scientist. She said: "I've travelled with FlixBus so much over the past year while studying. It was a lifesaver because the prices are so affordable, I don't think I could have done my degree without them!
"I never imagined I'd be the two millionth customer, and I'm so excited to use my prize to travel around the country, especially now my degree is complete. There are so many destinations to choose from, I can't decide where to go first."
FlixBus UK Managing Director Andreas Schorling said: "We've been delighted to see the way our popularity has grown since launch and we are very proud to have reached our two millionth passenger this summer, because it's a significant milestone for Flix in the UK.
"Meeting happy customers like Juanita makes us even more determined to deliver on our mission to become the largest coach travel network in the UK over the next five years."