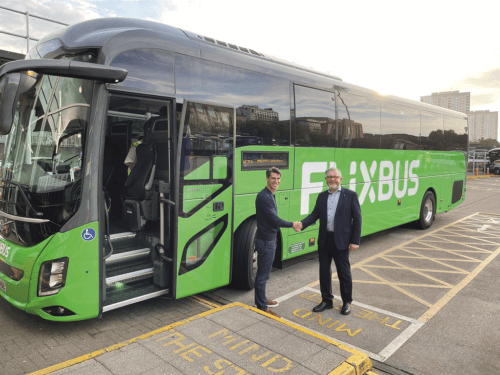 As CBW went to press, FlixBus unveiled its UK growth plans in partnership with existing operator partner, Scottish independent McGill's. Following the initial collaboration between the companies which led to routes linking central and north-east Scotland with London and major cities in northern England, McGill's has confirmed it will be placing 18 new vehicles onto the FlixBus network in 2023, in addition to its current fleet of seven.
As recounted in our feature this week, the partnership between McGill's and FlixBus began in 2021 as part of the firms' ambitions to disrupt the coach market. FlixBus reports that the network delivered by the two companies has gone from strength to strength over the last year, with the addition of extra routes and increased frequencies of service on cross-border routes to keep up with growing demand, including in the Scottish domestic market. Now, both companies say they are keen to push forward bold growth plans in 2023, with a total of 25 McGill's-owned coaches on the road as part of the FlixBus network.
Managing Director of FlixBus UK Andreas Schorling said: "Partnering with McGill's has played a huge role in our development in the UK market. We have built a dynamic relationship which allows us both to deliver exceptional coach services and expand our sustainable, affordable and reliable network, together."
FlixBus says it has outperformed its forecast UK figures this year, almost doubling passengers, reporting a 94% increase in the numbers carried carried the period from April to September compared to the same period in 2021. The travel tech brand also celebrated its 1 millionth UK customer last summer, and is now reaching over 40 destinations across the country.
The achievements of this year provide a powerful platform, Andreas says, for FlixBus to reach its goal of becoming the largest coach provider in the UK in the next four years. "The success of Flix both in the UK, and globally, cannot be overstated. Our strategy and business model have not only proved to be resilient to fluctuating uncertainty of the last two years, but in fact has delivered unprecedented levels of demand as travel returns to normal. We have high targets to reach next year, and are confident we will achieve our goals," he said.
Partner operator McGill's was founded in 1933 and has expanded its operations to depots in Greenock, Inchinnan, Johnstone, Dundee, Falkirk, Stirling, Livingstone and Balfron. It is headquarters located in Greenock.
McGill's CEO, and current CPT President Ralph Roberts commented: "Since the very beginning, FlixBus has been a true partner, and we have jointly built the network together because we have a relationship based on trust. We are delighted to be expanding the number of vehicles on FlixBus routes because we firmly believe they are the future of green, long-distance coach travel."
The routes for that the new vehicles are destined for have yet to be announced, and will be revealed later this year, FlixBus said.