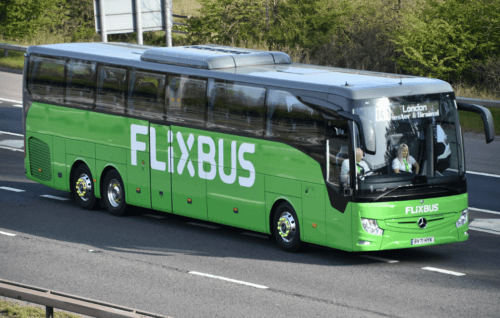 McGills has added another route to its portfolio of Flixbus services, as the German-based operator continues its UK expansion
Flixbus has added another new route to its network in partnership with Scottish operator McGills. The new route started on 28 April. Having worked together since June 2021, the new McGill's-operated Flixbus service will run between Manchester and Glasgow, calling at Preston and Lancaster, 10 times a week. The route will also provide additional connections to Birmingham and improve access to Scotland as well as destinations on the west coast of England.
Managing Director of FlixBus UK Andreas Schorling said: "McGill's has been a consistently strong partner, with its driving team delivering a solid, high quality service. This new route marks a significant milestone in our relationship and cements our commitment to Scottish-based coach travel."
McGill's currently runs FlixBus services from London to Glasgow, via major cities such as Sheffield, Sunderland, Newcastle and Edinburgh. Operations Director Colin Napier said: "Our first long-distance routes in partnership with FlixBus have proved to be a terrific success, with passenger numbers and feedback both being very positive. That is testament to the quality service being provided by team members and we're excited to be able to expand the routes offered.
"Working in partnership with FlixBus has proved even more fruitful than we could have anticipated. Its bold growth targets and sustainable values align directly with ours, and we're looking forward to being a key partner on the FlixBus network as passenger numbers continue to grow."
McGill's and FlixBus say they are planning to add additional services between London and Scotland via major cities in the North West of England, in anticipation of increased demand over the summer. "We're committed to creating a high quality, UK-wide network, and we are now offering routes to nearly 40 locations across England, Scotland and Wales with the help of our brilliant bus partners," added Andreas.
"We know Easter is a strong indicator of demand, which saw significant jumps in searches and bookings. We are keen to collaborate with new coach operator partners interested in our strong business model and competitive compensation packages."