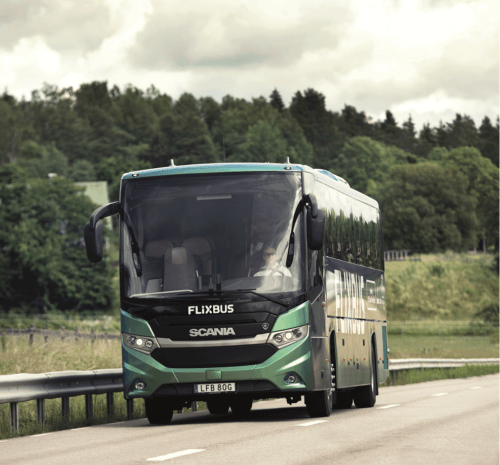 As a first project under a new strategic partnership, Shell and FlixBus are aiming to advance the development and introduction of bio-LNG fuel for the FlixBus fleet
Shell and FlixBus have signed a memorandum of understanding to enter a long-term strategic partnership for the use of alternative fuels on the operator's long-distance coaches. The partnership will focus on creating the infrastructure required to decarbonise bus fleets, and will start to develop and introduce bio-LNG fuel for the FlixBus fleet. The companies have set a target of equipping up to 50 of the operator's coaches with bio-LNG technology within the next two years. The bio-LNG will be produced from agricultural residuals.
Both companies say they are seeking to progressively reduce their environmental impact, and are investing in the introduction of alternatives for conventional fuels and in fleet efficiency. Through the partnership, the companies said they want to enhance the development and establishment of alternative fuels such as bio-LNG, HVO (hydrogenated vegetable oils) and biodiesel as well as hydrogen and electricity for long-distance coach services. Both companies agree that there is great potential in the long-term joint planning and design of the corresponding infrastructure across their international businesses.
"Shell is committed to shaping the future of mobility in a sustainable manner. This is also true for heavy-duty vehicles and coach traffic. With this cooperation between Shell and Flix, we set a milestone for sustainable mobility. We are looking forward to jointly implementing projects to support the decarbonisation of long-distance coach services", said Managing Director of EuroShell Deutschland Sönke Kleymann.
"People want to travel. It is our mission to make their trips as sustainable as possible by providing smart and green mobility solutions," added Fabian Stenger, COO at Flix. "Together with our partner Shell, we explore the use of alternative fuels. Biogas, in particular, is one big step ahead, as it does not only reduce CO2 emissions significantly, but also helps to recycle organic waste and avoids landfills. We are committed to introducing this technology in our network, as our-long term goal is to achieve carbon neutrality and thus contribute to shaping a new, safer and healthier context for generations to come."