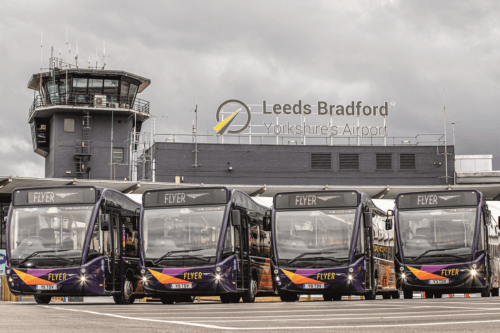 Yorkshire operator Transdev says it is looking forward to a summer 2023 boost for its dedicated Flyer bus network to Leeds Bradford Airport after plans to fly to 80 destinations were revealed by the airport, it's highest ever number, along with a major upgrade to facilities at its terminal building.
As passenger numbers using the airport are expected to rise, Transdev is also predicting a boost for its Flyer services. Transdev CEO Alex Hornby said: "In 2022 we saw more and more people choosing to use our Flyer buses to reach the Airport, particularly on our Flyer A1 route from Leeds city centre which gained a more frequent timetable, offering an express bus every 20 minutes on weekdays and every 30 minutes in the evening and on Sundays.
"The airport's exciting plans to fly to a record-breaking 80 destinations this year and next can only be good news for our Flyer bus network. With new city to city flights, including to Bergen in Norway, Perpignan in France, and Porto in Portugal, we're looking forward to carrying more business travellers and holidaymakers to our regional airport.
Leeds Bradford Airport has also launched a recruitment drive to support its plans to increase its range of destinations and improve customer facilities at its terminals – news which the operator said is also expected to add to those already using its Flyer buses to travel to work at the airport.
Commercial and Strategy Director at Leeds Bradford Airport John Cunliffe said: "The Flyer network is a sustainable and convenient way to travel, either before or after your flight. With more destinations than ever before, we're excited to see a growing number of employees and passengers at LBA in the coming months."
The Flyer bus network was launched in July 2020 in partnership with West Yorkshire Combined Authority and Leeds Bradford Airport, and offers three branded routes running from early morning until late at night seven days a week to Braford, Leeds, Otley and Harrogate using Optare Versas.