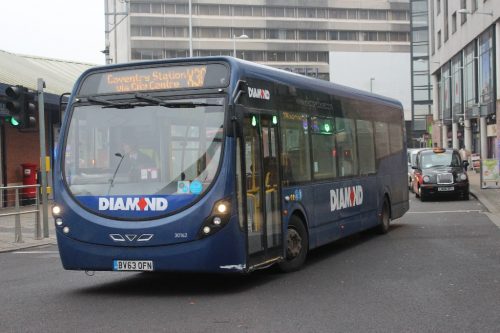 Operator improves since 2014 PI, but still above non-compliance threshold, and sees only half of O-licence increase authorisation granted
Rotala-owned Diamond Bus Ltd has been given a formal warning after it was called to a Public Inquiry (PI) in Birmingham on November 30, 2016. The operator was handed the warning after failing to operate its services to punctuality standards.
In his decision, Nick Denton, Traffic Commissioner (TC) for the West Midlands, also found no impact against the repute of the company or of its then Transport Managers Christopher Blyth and Robert Baker. The firm's application for an increase in O-licence authorisation from 228 to 323 was granted – but the increase on the licence was varied and reduced to 275.
The variation will last for an indefinite period of time until a satisfactory DVSA report is submitted.
The warning follows a previous PI in October 2014, where the company was fined £57,000 for failing to operate to timetable – reduced to £34,200 on appeal.
The recent PI was called after the TC's office and DVSA continued receiving complaints about Diamond Bus, and a monitoring exercise looking at 786 journeys found that 25% of timetabled services were outside the window of tolerance of being between one minute early and five minutes late. The non-compliance rate for frequent services was 8%.
An additional monitoring exercise revealed a non-compliance rate of 21% from 558 journeys.
Diamond Bus cited 'reasonable excuse' due to traffic delays, but once taken into account, the non-compliance rate still stood at 8-9%.
The TC concluded: "While I accept that the company has made improvements to punctuality and customer service since the late 2015/early 2016 period to which the DVSA reports refer, the precise extent of those improvements and the current levels of punctuality have yet to be quantified.
"I have therefore decided to allow the company half of its requested increase now, but to make the other half dependent on sustained improvements in punctuality. I have thus requested DVSA to carry out a further timetable monitoring exercise within the next six months or so. If the results of that exercise show further progression towards or beyond the 95% compliance level, I would be minded to cancel the variation by which the full increase has been withheld."