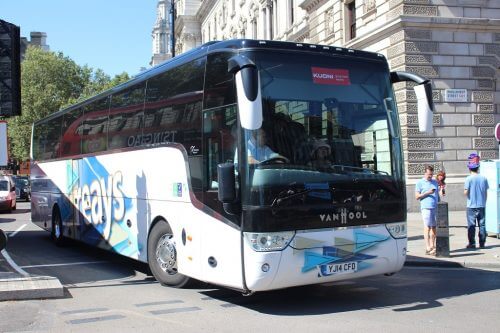 Deputy Traffic Commissioner for the North West praises the firms current wheel replacement system as 'one of the most comprehensive' he has seen, but gives warning because of likely human error from drivers checks
The PSV O-licence held by Reays Coaches Ltd has been issued with a formal warning by the Deputy Traffic Commissioner (DTC) for the North West of England, Miles Dorrington, after a public inquiry into three separate wheel loss incidents.
After hearing evidence from the company and a vehicle examiner from the Driver and Vehicle Standards Agency (DVSA), the DTC concluded that the firm had satisfactory systems in place prior to each wheel detachment and then intensified those procedures afterwards. He added that the company's current wheel replacement system was one of the most comprehensive he had ever seen.
Mr Dorrington stated that in the nine years he had been a DTC, he had never come across a wheel detachment case as unusual as this.
"This was an extra-ordinary case where three wheels detached on three separate incidents," he said.
"Unlike normal wheel detachment cases where there is a clear chain of causation, that was not apparent in any of the three incidents before me. Significant credit is given to the operator for everything it has done."
Mr Dorrington concluded that human error, at the hand of company drivers not doing a thorough first use check as they might have done, was the most likely cause. During the inquiry, the company presented evidence to show drivers are now rigorously and thoroughly checked.
A DVSA vehicle examiner told the DTC that following the incident on September 23, 2016, he had made several recommendations to the company, including the fitment of new parts following any wheel insecurity.
The examiner was unable to establish why the wheels came loose in relation to the third incident and made further recommendations to the company.
Issuing a warning to the company and its transport manager, Christopher Reay, the DTC said: "Is regulatory action proportionate? I answer in the negative. Is a warning proportionate? I answer that in the affirmative, because on balance I find that human error, at the hand of drivers not doing as thorough a first use check as they might have done, is the most likely cause albeit the drivers are now rigorously and thoroughly checked."
A Reays spokesman told the News and Star: "We assisted the DVSA fully with its investigations and respect the outcome. No-one was injured in the incidents. We would stress that passenger safety is of paramount importance to all our staff and we apologise unreservedly for these incidents.
"We have already made comprehensive changes to our procedures and will continue to educate drivers about their legal obligations.
"We would add that Mr Dorrington chose to give us a warning rather than the more severe option of taking regulatory action. He also stated that we had satisfactory systems in place and had intensified those procedures afterwards."