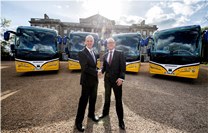 Company invests in Plaxton Panther-bodied Volvo B11Rs to support programme of holidays, private hires and excursions
Johnsons Coach & Bus Travel has taken delivery of four luxury specification Euro 6 Plaxton Panthers.
The four new coaches are Plaxton-bodied Volvo B11R chassis, powered by 11 litre 410bhp engines, with Volvo's I-Shift transmission. All four are 12.8m models – two are 49-seater 'club class' vehicles with extended leg room, and the remaining two are 53-seaters.
All of the coaches have luxury Brusa seats with leather headrests and piping, and include sophisticated monitoring and DVD systems, full climate control and toilet facilities.
The family-run business, based in Henley-in-Arden, near Stratford-Upon-Avon, is adding to its fleet of coaches to support the extensive programme of holidays, private hires and excursions that Johnsons operates throughout the year.
John Johnson, Commercial Director, commented: "During the last six months, we've taken delivery from ADL of three Enviro200s and three Enviro400 MMC double-decks at Johnsons, and a new Volvo Plaxton Panther for our fleet at Whittles Coaches in Kidderminster. In all cases we've been pleased with the delivery, quality, reliability, fuel economy and after sales service support.
"So for our 2016 order, we were very happy to consider the Volvo Plaxton Panther, which has made history here at Johnsons, as they are the first new Plaxton or Volvo coaches we have ever bought! These four vehicles will strengthen our 50-strong coach operation and be used extensively on our own programme of holidays and excursions, as well as our demanding private hire schedule.
"All of these vehicles have fitted seamlessly into our various operations delivering reliability, fuel economy and outstanding all-round performance. In addition, the support we have had from ADL and Plaxton has been second to none. We look forward to extending our relationship with them."