Free WiFi is now available within the eight busiest bus stations in Yorkshire. Bradford Interchange and Castledord, Dewsbury, Halifax, Huddersfield, Keighley, Leeds and Pontefract bus stations are the ones selected, as part of the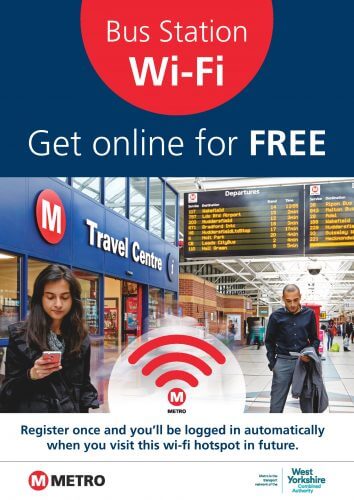 Combined Authority's current project with BT to upgrade CCTV coverage across all of its 25 West Yorkshire bus stations.
As part of the £1.2 million scheme, which is being delivered in partnership with Leeds City Council, aound 230 new Bosch HD cameras have been installed at the Combined Authority's 25 Metro bus stations.
The cameras, which replace the current analogue units, are connected to a high-speed CCTV fibre network, which is also providing the free WiFi access and a new and improved staff radio communications channel.
Cllr Kim Groves, Chair of West Yorkshire Combined Authority's Transport Committee, said: "Passengers are increasingly used to having access to free WiFi on buses and trains and we were keen to use the opportunity of upgrading our CCTV to provide people at our busiest bus stations with a similar service."
"This upgrade will mean we can access better quality of CCTV coverage and images and the upgrade to a fully digital system is going to save the combined authority a five-figure sum every year, meaning it will pay for itself in four years."
Brian Jackson, Head of BT Surveillance added: "Safety and security are paramount and now staff and bus passengers in West Yorkshire can be re-assured that the quality of their journeys will benefit from faster and higher quality video stream alerts being monitored by the combined authority.
"They'll get access to free WiFi with no time or bandwidth restrictions. The new future-proof network will also help enable the combined authority offer new smart city style digital services."