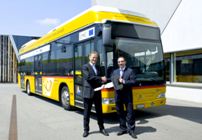 SWITZERLAND PostAuto Schweiz AG has become the first operator in Switzerland to deploy fuelcell hybrid technology for public transport.
Since the end of 2011, five Mercedes-Benz Citaro FuelCELL Hybrid models have been serving on routes in and around Brugg as PostAuto vehicles. Over the next five years, PostAuto will test the fuel-cell drive, using clean hydrogen as fuel.
The routes operated by PostAuto around Brugg are ideally suited to the test with varied topography and a mixture of city traffic, country roads and village streets. The routes are operated by a subsidiary of PostAuto, Voegtlin- Meyer AG, which also service and refuel the five fuel-cell post vehicles at its garage location. Aargau Canton is supporting the fuel-cell bus project with a subsidy of 1.5 million Swiss francs from the Swisslos lottery fund. PostAuto expects to save around 2000 tonnes of CO2 during the test phase.
Compared with the fuel-cell buses tested from 2003 as part of the CUTE and HyFLEET:CUTE projects, the Citaro FuelCELL Hybrid offers hybridisation with energy recovery and storage in lithium-ion batteries, powerful electric motors fitted in the wheel hubs with a continuous output of 120 kW, electrified PTO units and also more advanced fuel cells. These cells have an extended service life of at least five years, or 12,000 operating hours, with an operating range over 250km. As in the earlier fuel-cell buses, the two fuel-cell stacks are installed on the roof of the vehicle. A new addition is lithium-ion batteries, which store energy which is recovered during vehicle braking. With the electric power from this energy accumulator, the new Citaro FuelCELL Hybrid is able to run for a number of kilometres on battery power alone.