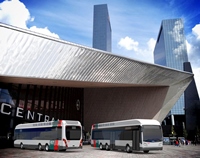 Belgium manufacturer to supply more hydrogen fuel cell buses under auspices of 3Emotion project
BELGIUM Van Hool has concluded a contract with RET, the public transport company of the metropolitan region of Rotterdam (Netherlands) for the construction of two tri-axle latest-generation hydrogen fuel cell buses.
Van Hool recently confirmed a similar order for London under the auspices of the 3Emotion project where two hybrid (fuel cell and battery powered) A330 12-metre bus with two axles will be delivered. They will be equipped with the latest FCvelocity-HD7 Fuel Cell module from Ballard Power Systems in Vancouver, Canada. Seating will be for 35, there will be space for a wheelchair user and standing room for more than 30 passengers. The vehicles will be used on Transport for London route RV1 running between Covent Garden and Tower Gateway.
The hybrid drive system will enable the London buses, with a tank content of 30kg of hydrogen on board, to travel the planned daily distance of 300km. The drive system is based on fuel cells, lithium batteries and electric motors. Hydrogen is converted into electricity in the fuel cell, with water vapour as the only emission, while the batteries provide additional power as and when needed. This hybrid drive system and the reuse of braking energy limits hydrogen consumption to around 8kg per 100km.
The Rotterdam contract is another fitting within 3Emotion, a European consortium for hydrogen buses in which Van Hool acts as project coordinator. The manufacturer says that hydrogen buses, in which hydrogen is converted into electricity, are today amongst the most environmentally-friendly vehicles for public transport: they generate no emissions (total absence of harmful emissions and CO2) and have a strongly reduced noise level. The RET buses will be delivered in the summer of 2017.
Van Hool CEO Filip Van Hool is delighted with the order. "After London and Antwerp, yet another major European city – in this case Rotterdam – is now confirming its confidence in the most environmentally-friendly technology in public transport," he said. "These vehicles, with their high added value, are of crucial importance for the (Van Hool) production facility in Koningshooikt."
Van Hool has already supplied 49 hydrogen buses to the US and to European member states as part of other European projects, including five buses to De Lijn Antwerp. The 3Emotion project is financially supported by the EU via the GO FCH, under subsidy agreement 633.174 and by a series of local government authorities.