SOUTH KOREA
Ajin Traffic Corp., a major bus operator in Seoul for 50 years, plans to incorporate fully automatic transmissions in all new buses as it adds more low-floor vehicles to its fleet.
The move is a response to plans by the South Korean capital city to ensure that all buses running in the city will be low-floor by 2025 and follows the successful operation of more than 60 city buses with Allison fully automatic transmissions over the past decade – roughly 60% of the company's fleet.
Ajin Traffic Corp.'s buses are managed under a semi-public system, and as such the city government evaluates the operator every year. Ajin ranks high, with government regulators often asking the company how it manages its buses, to glean insights for policymaking.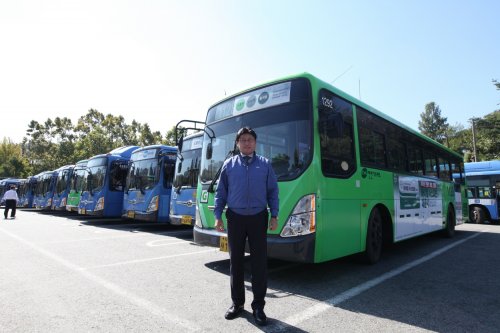 "We are proud of our excellent bus maintenance and safety," said Cheon Yeong-mun, General Affairs Manager of Ajin Traffic. "Fewer incidents of idling, sudden unintended acceleration and sudden starts translate into higher fuel efficiency and greater profits for the company.
Fully automatic transmissions are far cheaper to maintain than manual transmissions, which require replacement of components every six to 10 months.
"In 2009, we began to introduce low-floor buses. That's how our full experience with Allison fully automatic transmissions began. Over the past 10 years, we have had no trouble with the Allison products, which demonstrates their exceptional durability.
I also want to praise their effective maintenance support system, which has been a great help."
The only maintenance that fully automatic transmissions require is periodic replacement of the oil and filter, says the manufacturer, which is simpler and cheaper than frequently replacing clutches and brakes that manual transmissions often require.
Moreover, Allison transmission's aftersales service includes regularly visits from technicians to city bus operators to confirm how well the fully automatic transmissions are functioning.
Last October, Allison inspected all of Ajin's buses with fully automatic transmissions even though no issues had been reported.
You can read more International news here: cbwmagazine.com/category/international