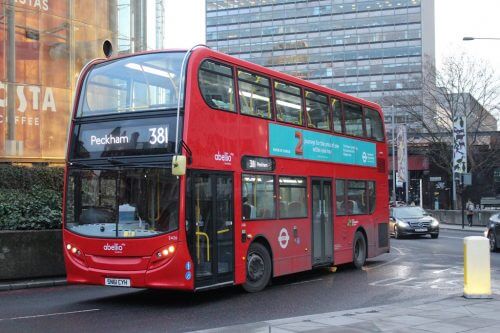 After false personal injury claims, couple is ordered to pay over £11,000 of Abellio's costs on top of serving custodial sentences
A couple who attempted to defraud Abellio London have been awarded custodial sentences by the High Court.
The attempted fraud occurred following an accident in September 2014; an Abellio-operated bus collided with the Volkswagen Bora of Amrik and Jakmit Ahuja while making a right-hand turn in Feltham, West London.
Following the incident, the Ahujas claimed that the bus was travelling at 10-15 mph when it collided with their car – the sideways jolt of the accident, they alleged, caused them both serious injuries.
While Abellio London accepted that they were at fault for the collision, it claimed any such injuries could not have been sustained as a result of the accident.
CCTV captured onboard the bus confirmed that the bus was travelling no more than 5 mph when the collision occurred, and the medical expert who examined the couple supported the operator's claim that their injuries could not have been caused by the accident.
Despite the evidence against them, the Ahujas maintained their position when the case went to personal injury trial in 2016. Backhouse Jones represented the operator.
At this point, the judge agreed with Abellio London that there had been 'no discernible jolt' to the Ahujas' car, also highlighting CCTV footage which showed Amrik Ahuja in the immediate aftermath of the collision displaying no visible signs of injury.
The couple were offered the opportunity to clarify that there had been a misunderstanding, but declined; as a result, their claim was dismissed due to 'fundamental dishonesty', and they were ordered to pay Abellio London's legal costs, totalling just over £5,000.
Subsequently, the operator took the couple to the High Court, suggesting that their prior, dishonest behaviour meant they were in contempt of court for attempting to defraud the company.
The judge found the couple guilty; Amrik Ahuja was sentenced to 60 days in prison while Jakmit was sentenced to 28 days suspended for six months.
On top of their sentences, the couple were ordered to pay a further £6,000 in legal costs, bringing the total to over £11,000.
David O'Doherty, Claims & Loss Control Manager at Abellio UK, said: "We are satisfied with the judgement of the court. We hope that this will send a clear message to those who try to commit insurance fraud that we will use all of the powers at our disposal to ensure that they are brought to justice."