The funding gap is putting nearly half of all bus routes at risk, according to a report by the Local Government Association
The Local Government Association (LGA), a membership organisation that includes 349 English councils and works on behalf of councils to ensure local government has a voice with national government, has issued a stark warning that nearly half of all bus services in England are now at risk.
First implemented as a statutory duty on 1 April 2008, the National Concessionary Travel Scheme (NCTS) is administered by councils and offers free off-peak travel for residents who have reached retirement age.
No time restrictions apply at weekends. Eligible disabled people are also able to obtain the pass.
The warning from the LGA comes as a spending review by the Government is currently being decided.
Further cuts in funding could result in bus services being withdrawn, particularly in rural areas. The LGA said towns and cities could also see increased traffic congestion, leading to poor air quality for those living on main arterial routes.
Reductions in Government funding has meant that the money available for the NCTS was underfunded by an estimated £652m for the period of 2017/18, LGA analysis shows.
This amount is significantly more than the LGA's previous estimate of at least £200m made in 2016 and is forecast to increase further for 2019/20.
To achieve this, councils have been forced to reduce spending on discretionary concessionary fares across England, from £115m in 2014/15 to £85m in 2017/18 – a fall of 26%; and in England, outside of London, spending on supported bus services is now £122m less than 2010 – a reduction of 33%.
Cllr Martin Tett, the LGA's Transport Spokesman, said: "Local authorities want to protect the bus services which provide a vital service for our communities and are a lifeline for our most vulnerable residents to go shopping, pick up medication, attend doctor appointments or socialise with friends and family.
"But due to significant funding pressures and the underfunding of the national free bus pass scheme, councils have been forced to reduce or scale back these services and review subsidised routes, and even reduce spending on other vital services to plug the gap.
"Properly funding the national free bus pass scheme is esse
ntial if the Government wants councils to be able to maintain our essential bus services, reduce congestion and protect vital routes. If this is not addressed in the spending review it could lead to older people having a free bus pass but no bus to travel on."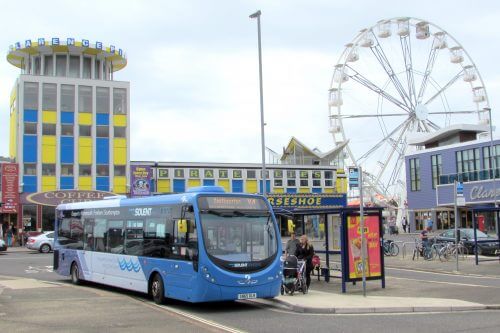 Nearly half of all bus routes in England currently receive partial or complete subsidies from councils and are under threat.
The LGA is warning that the underfunding of subsidised bus routes, coupled with councils facing an overall funding gap of £3.1bn in 2019/20, means that local authorities will struggle to maintain current subsidies for bus routes which will continue to fall unless they are given the funding to protect them.
An example of upcoming service changes due to funding cuts has seen First Hampshire & Dorset announce changes from the 3 March for services in its Fareham and Gosport network.
The changes announced on the company website state that 'Following funding cuts to some of our services, we have been working with Hampshire County Council to limit the inconvenience to your travel.'
Some services will have limited operating hours, such as service 11 from Alverstoke to Fareham, which will only operate between 0900hrs and 1500hrs.
Other services will see early morning, late evening, frequency and Saturday service reductions.
This is an example of how operators are making major changes to their networks to ensure passengers are still able to access some level of service, rather than withdrawing it entirely.
The LGA is urging Government to reinstate the full funding of the costs of the national concessionary travel scheme in its forthcoming Spending Review.