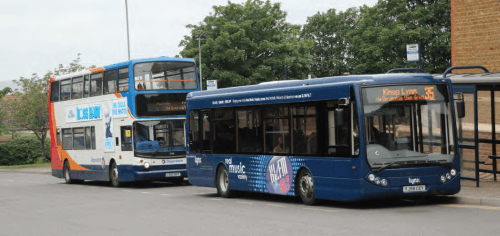 Lynx, West Norfolk Community Transport, Sanders Coaches and First share services which are being given up by Stagecoach Norfolk
Following the Stagecoach Norfolk scaling back its services, details of a deal to secure the future of West Norfolk bus services have been announced.
Norfolk County Council officials have said that the operator will continue to run the 505 service from King's Lynn to Spalding as well as the 55 from King's Lynn to Walpole St Peter (which is to renumbered 45), Lynn News reports.
According to the site, the main 505 service will drop in frequency from every 20 minutes to every 30 on weekdays. Stagecoach will also retain the 50, 56 and 66 services.
From April 29, 2018, Lynx will gain control of the Fakenham to King's Lynn X29 (to be renumbered 49), Hunstanton to Wells Coasthopper and Wells to Fakenham X29 (to be branded Coastliner 36), King's Lynn to Fairstead Circular 1 (to be numbered 42), the Kings Lynn to Hunstanton D, E, H and R (changing to 34, 35, Coastliner 36 and 43A) and the 46.
From the same date, West Norfolk Community Transport will operate the 2, 3, 4, 5 and 60 services, each of which will keep their current numbering. The Fakenham to Norwich stretch of the X29 will transfer to First on April 3.
Meanwhile, Holt, Norfolk-based Sanders Coaches will be operating connecting services between Wells and Cromer.
Stagecoach announced a review of its Norfolk operations in January, later deciding to end the majority of its current routes by the end of April.
Martin Wilby, Chairman of the Environment, Development and Transport Committee at Norfolk County Council, commented: "It's very welcome news that the future of services on the Coasthopper route looks to be secure.
"Our transport team and local operators have been working hard to make sure that as far as possible the former Stagecoach services continue to run.
"Some services and timetables may differ from now. We're expecting to have much greater detail on routes and timings over the coming days.
"As details emerge and services switch over to new providers we'll continue to work with operators to review services by looking at passenger numbers and listening to customer feedback."