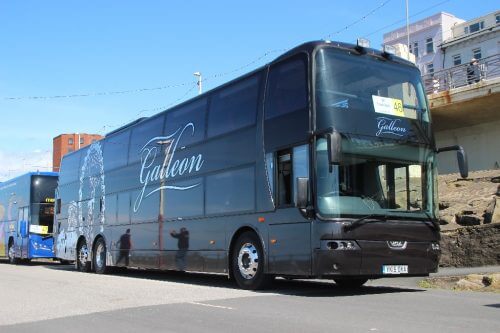 Galleon Travel 2009 Limited of Hoddesdon, which has bus services trading as Trustybus, has been given a 10-week period of grace to demonstrate financial standing or face revocation of its licence, while Logic Travel Essex Limited, which has been operating from the same premises, saw its licence revoked with effect from January 16, 2017.
The company will need to provide up-to-date statements over three months, with an average figure which meets financial standing requirements.
The repute of Megan Baker, Transport Manager for both licences and a named director of Galleon, was marked as severely tarnished. Galleon Director Matthew Bowden-Scott and Logic Director Mr G Ricotta were each given formal warnings.
The Galleon business was also fined £1,100 for poor punctuality – £100 per vehicle. The compliance rate was found to be 89%, so the penalty was towards the lower end of the scale.
Much of the proceedings at a public inquiry before Traffic Commissioner (TC) for the Eastern Traffic Area, Richard Turfitt, centred around the relationship between the two operators. It was found that the management team at Galleon was in effect running the Logic Travel operation, with Mr Ricotta a director in name only. Mr Ricotta had sold his business to Galleon, but the TCs office had not been properly notified. Also, the Logic business did not have a bank account and therefore had no financial standing.
Galleon had applied to increase its licence from 11 to 30 vehicles, in effect taking on the vehicles operated by Logic. However, because up-to-date financial statements were not provided, the TC did not have evidence of financial standing and refused the application.
The TC had a number of concerns regarding Transport Manager Megan Baker not fully understanding her role and thereby not providing effective management. Meanwhile, Director Matthew Bowden-Scott, was found to have a 'lack of practical experience.' The lack of management control was demonstrated by a bridge striking incident, where a driver of a double-decker had been left to plan his own route using a sat-nav and had hit a low bridge.
Mr Ricotta's role in the running of the Logic licence was simply to sign certain documents, though there was evidence of the forging of his signature. However, there was not sufficient evidence to support a finding of wilful or deliberate manipulation of the system.
The TC said the nature of Logic being run by Galleon's management could have given Galleon a competitive advantage, by shielding them from responsibility if action was taken against Logic. While the reasoning for the Logic licence revocation was financial standing, rather than false statement as there was a genuine link between the two companies, Mr Ricotta was warned that a future instance where he is simply a name on a licence would risk a more serious intervention.