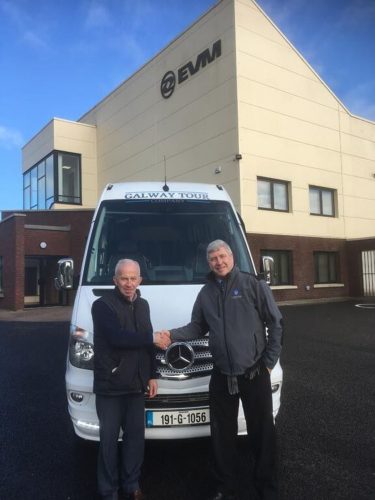 Galway Tour Company offers day and night tours of popular destinations and lesser taken routes including the Cliffs of Moher, the Aran Islands, Connemara and Clonmacnoise Monastic City.
Looking to purchase a Euro VI luxury minibus for these tours, Galway Tour Company purchased an EVM Grand Tourer based on an extra-long wheelbase Mercedes-Benz Sprinter 516. The engine features a Common Rail Direct Injection diesel engine. Transmission is a 7 Speed G Tronic Automatic gear box.
Entry to the vehicle is through a Masats Plug-type electric door, along with an EVM integrated three stage entry step with LED strip lights and stainless steel inserts.
B & E diamond stitching is on the base and backs. The vehicle's 19 seats are fitted with three-point seatbelts and aisle folding arm rests and finished in real leather and a cushioned finish. All seats have reclining back rests.
Climate control is provided by a Webasto Diavia Madrid roof mounted 15.5kw air-conditioning system, ducted through the luggage racks and exiting through passenger service units. EVM Panoramic large framed curved double-glazed passenger saloon side windows in privacy grey also help keep the vehicle cool. A large coach type panoramic windscreen and a rear window above the boot door are also fitted.
Exterior styling features EVM front bumper spoiler with day time running lights, colour-coded bumpers, side moulding and front grill and EVM side skirts all complimented with a chrome styling. An EVM coach back with a vertical elevating, electric powered boot door with gas lift up struts and a full depth drop boot with fold out flap and stainless steel boot protector.