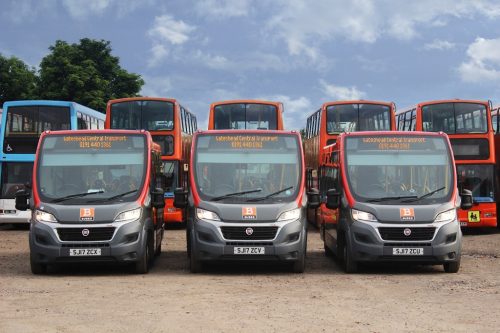 Gateshead Central Taxis' Bus Division has taken delivery of three new Mellor Orions.
The Orion is designed predominantly for community transportation and dial-a-ride contracts. The entirely configurable passenger area can meet the demands of a multitude of service requirements.
These buses have been specifically designed for local bus work with driver partition, bell pushes, luggage storage, cash tray and destination display. The vehicles are configured to carry 23 passengers and were also fitted with multi-camera CCTV systems.
Graham Mulvaney, Transport Manager at Gateshead Central Taxis Bus Division, said: "We have had nine Orion's in the past and both drivers and maintenance staff think that the new Orion is an improvement on the earlier models.
"They are more robust with a better feel for the road and they are a much more pleasant drive.
"The interior looks bigger and more airy. It feels like it was designed as a big bus.
"We were a little worried about the drop in engine size but the new engines have been as good as, if not better than the older models in acceleration and performance when fully loaded. A big improvement in both look and performance."
National Sales Manager for Mellor Coachcraft, Lorna Miller, added: "We are delighted that Gateshead Central Taxis chose Mellor for their fleet expansion.
"The exceptional fuel economy makes the Orion the logical choice for cost conscious customers such as bus and taxi operators."