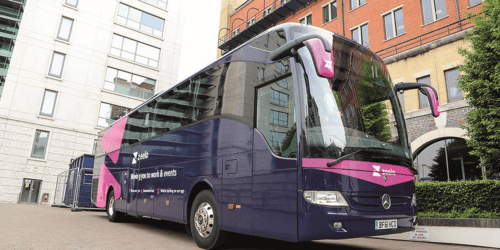 The acquisition expands Swvl's global footprint to 146 cities across 21 countries in 5 continents with contracts with over 490 corporate and institutional customers, to service daily bus journeys for frontline shift-workers, professional office commuters and students
Swvl Holdings, a global provider of tech-enabled mass transit solutions, announced on 28 April an agreement to acquire UK 'smart bus platform' and technology scale-up Zeelo.
Joining forces with Zeelo builds upon Swvl's recent acquisitions of Viapool and Shotl, plus announced acquisitions of Volt Lines and door2door, and provides a launch pad for the firm to expand its business operations in three markets which it describes as strategic to its growth, including the UK, South Africa and the US. Zeelo has a team of over 160 staff across the World, including 29 software engineers based at Zeelo's R&D hub in Barcelona.
Swvl's believes that Zeelo aligns with its own mission thanks to its recognised commitment to driving the shift from single-occupancy vehicles to zero-emission mass transit and deploying transport services to connect more people to work and educational opportunities.
The acquisition is expected to be completed in May 2022. Mostafa Kandil, Swvl founder and CEO, said: "Swvl was founded on the belief that accessible transportation is essential to unlocking economic opportunity. Swvl and Zeelo share a vision and mission to provide reliable transportation that gets riders where they need to go in an affordable, safe, and environmentally-friendly manner.
With an impressive suite of turnkey TaaS and SaaS solutions and an established footprint in the United Kingdom, South Africa, and the United States, Zeelo rapidly advances our leading market position as a provider of technology-enabled mass transit solutions on a global scale."
Sam Ryan, Zeelo Founder and CEO, said: "Swvl is revolutionising the mass transit industry and we are thrilled to join forces with them on this next phase of Zeelo's journey to firmly establish smart bus transport as the best-in-class shared mobility solution that takes account of all income levels and the needs of ordinary, every-day travelers. Bus transport done well with tech can take us beyond our dependency on cars and taxis which are not suitable for commutes from non-urban areas. We look forward to bringing Swvl insights from Zeelo's strategic pivot during the global pandemic and we've been impressed by Swvl's fast growth in challenging markets. We are excited to leverage its global experience as we embark on a shared journey to develop safe, affordable, and low emission mass transportation options, and expand economic opportunity for the people who need it most through our mobility solution, especially shift workers, professionals and students living in transport-poor areas in the developed markets."