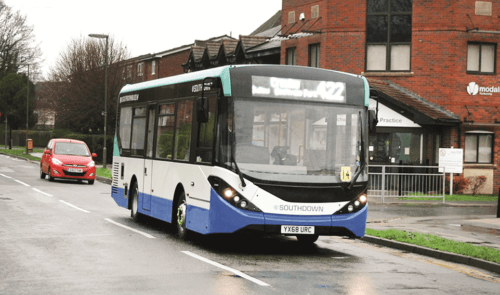 West Sussex-based independent Southdown Buses has moved into group ownership following a takeover by the Go-Ahed Group
From midnight on 1 February, Go-Ahead subsidiary Brighton & Hove Buses acquired independent operator Southdown Buses. The newly-acquired business has a Standard National operator's licence with authorisation for 35 vehicles to operate from its Copthorne depot in West Sussex. Bus services operated cover areas of East Surrey and into Kent and Sussex, centred on Oxted, Caterham, Redhill, Crawley, and East Grinstead, many of which are financially supported by the local councils. Southdown also undertakes ad-hoc railway replacement work for emergencies and planned engineering work.
Managing Director of Brighton & Hove Buses Ed Wills said of the acquistion: "Southdown is a great business serving communities in and around East Surrey and we're looking forward to building on its strengths. This is part of the Go-Ahead Group's overall commitment to investment in the regional bus market across the UK."
Southdown will remain a separate business unit within the group and will initially retain its local identity, although over time Go-Ahead say it anticipates altering the branding to that of sister company Metrobus.
The acquisition follows the take-over of Exeter-based Dartline Coaches in November, with that business becoming part of Go South West.