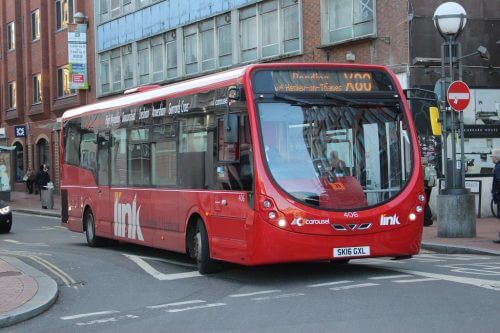 Ticketer is providing Go-Ahead with its latest Electronic Ticketing Machines (ETMs) with fully integrated EMV readers for contactless payments.
The integrated ITSO/EMV ticket machines are now being used by Oxford Bus Company, Thames Travel and Carousel Buses in what Ticketer claims is the largest deployment in the UK outside of London to use technology based on the UK Cards Association's 'Model 2.'
The new system has the potential to offer pay-as-you-go ticketing with fares calculated – and capped – in the back office, rather than by the driver's ticket machine. It is also the first 'Model 2' deployment to feature a fully integrated EMV reader within the bus ticket machine.
The new system is able to help mitigate the increased transaction costs which operators face from introducing contactless payments, by aggregating multiple transactions from the same customer together into a single debit to their account.
The project is the result of a partnership between Go-Ahead, Ticketer and Littlepay, a fintech start-up company focusing specifically on developing micro payment processing services.
Phil Southall, Managing Director of Oxford Bus Company, Thames Travel and Carousel Buses, said: "Our customers have been telling us for some time that they want to be able to pay for their travel as conveniently as possible – which for many means using contactless technology. Therefore we're really proud to be able to offer the ability for customers to pay for their tickets using Visa, Mastercard, Apple Pay and Android Pay.
"Our research has told us that customers expect contactless to do more than just replace their existing cash ticket – they want the back office to select and pay for the best value tickets for them, based on their own personal journey patterns. We therefore invested our time in developing a solution which over time will much better meet the needs of our customers. This is just the first step in the deployment of our new system, and we have ambitious plans over the coming months to introduce further improvements which we hope will help to make our customers' lives easier."
John Clarfelt, Managing Director of Ticketer, said: "We are delighted that after the intensive efforts of all parties working closely in partnership, Oxford Bus is introducing such an innovative and customer-friendly option for its passengers.
"Oxford Bus can now offer its customers the full gamut of payment options and, with the architecture in place, the contactless solution released today is merely the start, not the end, of a very exciting road ahead. We are extremely proud to be a part of that journey."
Michael Walters, CEO of Littlepay, added: "By supporting a wide range of contactless EMV transactions through its ticketing machines, validators and hand-helds, Ticketer is enabling its customers to have the flexibility to support a wide range of payment options both now and into the future – from traditional contactless cards, through NFC wearables and stickers, to mobile based wallets and schemes. Coupled with Littlepay's cloud-based, bank-grade platform, Ticketer's customers can be sure that the payments of their passengers are being processed quickly, simply and safely."