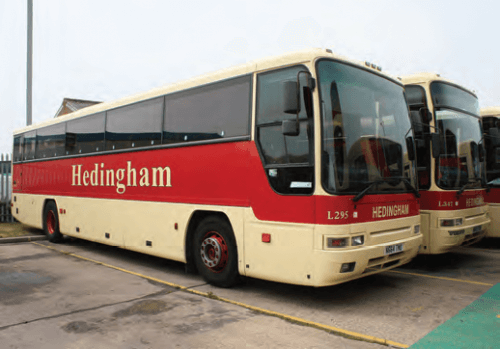 Go-Ahead East Anglia will be operating a special hourly X76 Clacton-Colchester timetable using two Volvo B10M coaches as a farewell to the vehicles.
The coaches are due to be withdrawn in 2018 and will operate on a free running day on Friday, March 30. Though no fares will be charged on the day, donation boxes for the SSAFA charity will be on board.
Since being established, Hedingham has operated a number of coaches including on Bedford, Leyland, AEC, Bova and Volvo chassis. The coaches currently operated are Plaxton Premiere 320 bodied-Volvo B10Ms which are now over 20 years old. When bought they were used on excursions and private hire work, but are now mainly used on local home to school contracts for Essex County Council.
The two coaches operating on the running day are S290/1 TVW, which were purchased new by Hedingham in 1998.