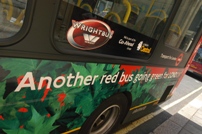 Go-Ahead Group featured in the world's first Carbon Footprinting Gallery in London. The gallery celebrated companies which are pioneering and shaping the future of carbon footprinting.
Go-Ahead was the only transport operator included in the exhibition organised by the Carbon Trust. The exhibition included a model train illustrating how Go-ahead led the way in installing third-rail regenerative braking systems on Southern and Southeastern. In addition to regenerative braking on trains, Go-Ahead has introduced Mix Telematics to improve fuel efficient driving and more hybrid buses.
Other displays included an army of concrete jelly babies, a miniature bed, a sack of potatoes and a bubble machine.
The Footprinting Gallery showcases how a diverse range of brands including BT, Danone, Dyson, The Football Association, Formica Group, Greener Planet, Loomis, Manchester United, SodaStream, Tarmac, Tesco, Walkers and Whitbread – have reduced the carbon footprint of their products, services or organisation.
David Brown, Go-Ahead Group Chief Executive, said: "Go-Ahead has worked with the Carbon Trust since 2008, when we became the first UK transport operator to receive Carbon Trust accreditation after taking action to cut our emissions."
Tom Delay, Chief Executive, Carbon Trust, says: "The diversity of the exhibits in the Gallery reflects the broad range of industries which are now taking carbon seriously, and using carbon footprinting as an important first step on the journey to managing their environmental impact."
For more information on the Carbon Footprinting Gallery visit www.carbontrust.com or ring 0207 8324802.