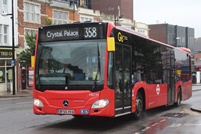 Revenue continues to grow in Go-Ahead Group's regional bus operations, the firm has announced.
According to its newly released third quarter trading statement for the period from December 27, 2015 to April 20, 2016, contract income has grown by around 2.5%. Passenger growth has however, seen a decline of almost 0.5%.
In the group's London bus operations, revenue growth is at around the 4% mark, and mileage operated is growing by around 3%. Contract gains, contract variations and rail replacement work have helped to offset reduced Transport for London Quality Incentive Contract revenue – which the company claimed was continuing to be adversely affected by congestion resulting from roadworks.
Overseas, Go-Ahead Singapore will begin operations in the third quarter of this calendar year, and so far the firm said it has made good progress in mobilising the business.
The Group said it remains in a strong financial position, with good cash generation and a robust balance sheet. It said this will allow flexibility to pursue 'value-adding opportunities.'
David Brown, Go-Ahead Group CEO, commented: "Overall trading performance has been satisfactory and our full year expectations for both bus and rail operations remain unchanged.
"We continue to make progress in our bus division. Our locally-run bus companies work in partnership with local authorities and are focused on the needs of the communities they serve. We are proud of our high levels of customer satisfaction, which at 89% remain sector-leading."