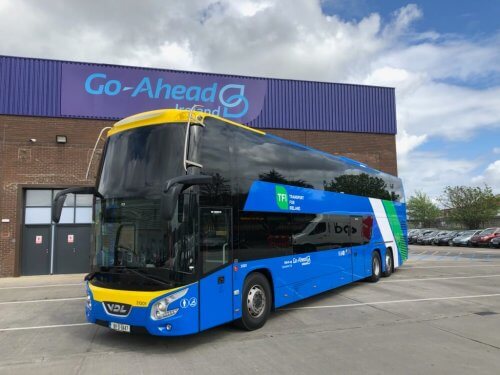 Go-Ahead Ireland, which currently operates 10% of the Dublin bus network, took over Kildare-Dublin N7 coach routes 125, 126 and 130 from Bus Éireann on Sunday 1 December.
Speaking ahead of the mobilisation, Ed Wills, MD of Go-Ahead Ireland, commented: "In July last, we opened our Kildare depot and over the last number of months have been working hard, alongside the National Transport Authority (NTA), in preparation for Sunday. We look forward to providing these services and hope they are popular with customers. Passengers can expect an enhanced service – by way of frequency – skilled coach drivers and a new fleet. However, we would advise customers to familiarise themselves with the timetables well in advance of their journey. There are some changes to bus stop locations – due to health and safety reasons – and some routes may stay the same, but the coach number will be different."
Speaking at the launch of the Kildare depot in July, Anne Graham, CEO of the National Transport Authority (NTA), said the opening up of bus and coach services to tender was in line with Government policy and framed by relevant legislation. Ms Graham confirmed that Go-Ahead Ireland had already produced "very positive trends on reliability, punctuality, customer service – particularly in recent months."
The fleet, which the NTA owns, is a mix of existing VDL Synergy double-decker coaches, previously used by Bus Éireann, and brand new Sunsundegui SC5-bodied Volvo B11R coaches. The new livery, designed by Transport for Ireland, is a distinctive blue, green and white with yellow frontage for enhanced visibility.
Additional Commuter routes will commence on the 19 January 2020.